Even though the books I got aren't YA books, I SINCERELY appreciate the thought these publishers have put into sending me bookish parcels and I will be reading and reviewing them.
Stacking the Shelves is a weekly meme hosted by the lovely bookish humans at Tyga's reviews and is all about the books you stacked onto your shelves over the last week, whether they were bought, gifted or received.
FOR REVIEW:

From Pan Macmillan India:
1. Awaken by Ashok Banker:
So I've seen this book around and it had me at Feminist Indian Fantasy. THESE DON'T EXIST, Y'ALL (or none that I've read - I'm not particularly well versed in Indian Fantasy) but apart from the cover that's
not
the best it could be, this book has stunning reviews and I'm actually really excited to read it!
You can check it out on Goodreads here.
2. Charlatans by Robin Cook:
Confession Time: I haven't read a Robin Cook book before today, but now that I have a copy of
Charlatans,
I'm sure I will! Fun fact: As soon as my dad saw this book, he kind of freaked out and said that he LOVED Robin Cook and stole the book from me to read first. I love it when my family is interested in the books I get.
From Scholastic India:
1. The Bad Guys Episode 2: Mission Unpluckable by Aaron Blabey
2. The Bad Guys Episode 3: The Furball Strikes Again by Aaron Blabey
3. The Bad Guys Episode 4: Apocalypse Meow by Aaron Blabey
I read book one in this HILARIOUS children's series a long time ago and I fell in love with it. The Bad Guys is a gorgeously illustrated and hilariously told story about four traditional bag guys - the Big Bad Wolf, a snake, a pirhana and a shark trying to be heroes and the pure madness that ensures. Even as an adult, I thoroughly enjoy this series.
You can read my review of book one here.
4. Meduim Fast and Furious by Rahul Oak:
This book promises my puppy love and I HONESTLY couldn't ask for anything more. It's set in the 90's in Bombay, India and is coming age story with cricket, friendship and puppies! It sounds really cool.
5. Beetle Queen by M.G. Leonard:
I read Beetle Boy last year as a part of another surprise mail package from Scholastic and now I have Beetle Queen! This edition has gorgeous spotted edges and while I don't know when I'll be able to make time to read this beauty, I'm so grateful to scholastic for sending it to me.
6. Growing Up In Pandupur by Adithi and Chatura Rao:
This is so surprising because the cover I just received isn't up on Goodreads yet, and I really wanted it to be because it is gorgeous. This is all about growing up in small town, traditional India and are exactly the kind of stories I loved as a kid!
From Edelweiss:
1. Speak Easy, Speak Love by McKelle George:
I'm SO SO EXCITED to announce that McKelle George will be one of the SEVEN wonderful authors that are going to be a part of
Meet The Authors
September! The cover of her book is absolutely stunning and this is a SHAKESPEARE RETELLING! McKelle was AMAZING enough to get me approved to read a copy on Edelweiss and I can't wait to do just that!
From NetGalley: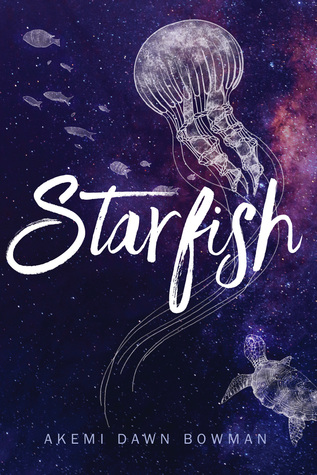 1. Starfish by Akemi Dawn Bowan:
I freaked out the MINUTE I got the chance to read this book because IT SOUNDED LIKE THE BEST THING EVER. I almost immediately flipped it open and fell in love with the prose, the characters and the art.
I've already posted my review on Goodreads
and it'll be on the blog soon. LONG STORY SHORT: You NEED THIS OMG IT'S BEAUTIFUL.
2. The Nowhere Girls by Amy Reed:
A FEMINIST STORY! The Nowhere Girls is all about a band of misfits who come together to avenge the rape of a fellow classmate and end up igniting a feminist movement and I CANNOT WAIT TO READ THIS BECAUSE I KNOW I', GOING TO LOVE THIS ON PRINCIPLE. Add it to your TBRs, everybody
BOUGHT:
1. Blue Lily, Lily Blue by Maggie Stiefvater:
This is the third book in the Raven Cycle Trilogy. It's been 10 months from when I closed the AMAZING
The Dream Thieves
to the day I bought this copy and I have NO IDEA AS TO WHY IT TOOK ME SO LONG. I can't wait to dive into Blue and her Raven Boys' world again because YAY! Also, this cover is SO BEAUTIFUL. *Chokes up*
2. Burning Glass by Kathryn Prudie:
I've been meaning to buy this book since LAST YEAR and I did as SOON AS the paperback version came out. I've heard that this is brilliant from multiple trusted bloggers and I can't wait to begin!
What books have you recently Stacked onto your shelves? Have you already read some of the book I just got?
What did you think of them?
I can't wait to hear what all of you think!