Title: What's A Girl Gotta Do? (The Spinster Club #3)
Author:
Holly Bourne
Publication Date:
August 1st 2016
Publisher:
Usbourne Publishing Ltd
Part of a Series?:
Yes, Book 3/3 of the Spinster Club Series
I Got A Copy Through:
Usbourne (THANK YOU!)
Buy Links: Amazon IN || Amazon US || Amazon UK || The Book Depository || Wordery || Snapdeal || Foyles || Waterstones || WHSmith || Kobo || Google Books
Blurb Description:

HOW TO START A FEMINIST REVOLUTION:




1. Call out anything that is unfair on one gender




2. Don't call out the same thing twice (so you can sleep and breathe)




3. Always try to keep it funny




4. Don't let anything slide. Even when you start to break...




Lottie's determined to change the world with her #Vagilante vlog. Shame the trolls have other ideas...
I cried HAPPY TEARS at the end of this book – HAPPY. TEARS.
Why? Well, it's because What's A Girl Gotta Do? is THE BOOK that teenagers all over the world need to be reading. It's THE BOOK that will make you feel like everything you've ever felt is normal and justified; it's THE BOOK that will have you saying, "This happens to me too, and it's NOT OKAY"
It's THE BOOK that will have you waking up, walking out and blowing your own loudspeakers at the small sexist things you see every day because WE HAVE TO START SOMEWHERE, RIGHT?
If you're a teenager, a feminist or even just a person living here, you need to read this honest, spunky, powerful book about why this world needs to treat everybody equally and that we need to start demanding just that.
I live in India. I'm not going to talk about how I've been catcalled, abused, objectified or body-shamed. It happens. To every girl around the world, it happens. Instead, let's talk about why this book took on EVERY HELPLESS THING all girls feel and replay in their heads constantly and turned it into something powerful:
1.
#VAGILANTE:
This was the hashtag for Lottie's project. DOESN'T IT SAY ENOUGH ABOUT HOW ABSOLUTELY AMAZING THIS BOOK IS and how empowering it was?
I was sold on this book before I even flipped it open purely because of this one word. #Vagilante
2.
WILL + LOTTIE:
Not only was this book powerful, it also beat the common stereotype (that I have never understood) that feminists are man haters.
Will, our documentary maker, resident cynic and equalist who also happens to be a very good kisser was the PERFECT guy to balance Lottie out
. All their arguments about each other, double standards and feminism were utterly hilarious and honestly, they had some of the best chemistry I've seen in a while.
3.
THE SPINSTER CLUB:
Again, YAY for strong female friendships that don't get tossed aside when boys come alone. I love the different things all three of these girls bring into their Friendship and The Spinster Club. I know them so well too, each book being told from a different girl's POV. I love all of them and their kind spirits and need for the world to be a better place.
4.
THE POWER OF THE MESSAGE:
If the whole first part of this review didn't tell you already, the message
What's A Girl Gotta Do
throws at your face is POWERFUL, it's like a wakeup call everybody who's been sitting back waiting for things to change that YOU have to start that chance.
It is THE BOOK this generation needs.
5.
COGNITIVE DISSONANCE:
More than make me feel empowered, this book TAUGHT ME SO MUCH. If you don't know what Cognitive Dissonance is and you consider yourself a feminist, it's when you have two contradicting opinions. For example, you think body shaming is wrong but want to be fit or thin anyway. I loved that I could learn from and love a book at the same time.
What's A Girl Gotta Do? is pure feministic genius and it's the book our generation needs to read.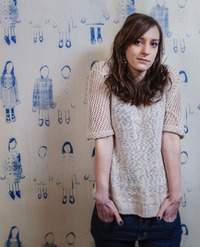 Holly Bourne writes YA novels and blogs about feminist issues. Her favourite things to complain
loudly about are: the stigma of mental health, women's rights, and the under-appreciation of Keanu Reeves' acting ability.
Holly's first two books, Soulmates and The Manifesto on How to be Interesting, have been critically acclaimed and translated into six languages. The first book in the 'Normal' series, Am I Normal Yet?, has been chosen as a World Book Night book for 2016 and has inspired the formation of Spinster Clubs around the country.
Before becoming a full-time author, Holly was editor and relationship advisor for a charity website.
Follow her on Twitter to stay updated!
What are some of the best feminist books you've ever read?
Have you read The Spinster Club Series yet? What did you think of it?
Which book contain some of the BEST teenage friendships in your opinion?
I can't wait to read your recommendations and hear from you!