Title:
City of Saints and Thieves
Author:
Natalie C. Anderson
Publication Date:
6th July 2017
Publisher:
Rock The Boat UK (Oneworld Publications)
Part of a Series?:
No, A Standalone
I Got A Copy Through:
Rock The Boat (THANK YOU!)
Buy Links: Amazon IN || Amazon US || Amazon UK || Barnes and Noble || The Book Depository || Wordery || Foyles || Waterstones || WHSmith || Kobo || Books A Million || Chapters Indigo ||
Blurb Description: The Hunger Games meets The Thief Lord in this enthralling murder mystery set in Kenya.


In the shadows of Sangui City, a street-thief called Tina patiently plots her revenge. Her mother has been shot dead at the home of one of Kenya's richest businessmen, and Tina is sure she knows who's to blame.

When a local gang asks her to steal from his home, it's the chance Tina has been waiting for. But as she steps inside, old wounds resurface and she is caught red-handed by his son, Michael. The pair set in motion a cascade of dangerous events that could, at any moment, cost Tina her life. The desire to uncover the incredible truth about who killed her mother ― and why ― keeps her holding on in this fast-paced, nail-biting thriller.
If I could describe
City of Saints and Thieves
in one word, if would be
haunting.
Set in Africa, this book captures the raw, honest and pained voice of a teenage refugee planning her revenge for her mother's murder so perfectly, it'll leave you stunned and desperate for more.
If I'm being honest, I didn't even EXPECT to love this book so much – the powerful voice, the backdrop and the plot ensnared me and left me wanting either a sequel, 200 extra pages in the book or ANYTHING else that the lovely Natalie Anderson writes.
Let's go more into detail:
WRITING:
Like I said above, the writing in this book was EXCEPTIONAL. Natalie Anderson managed to create the pain and determination in one teenage refugee's voice so perfectly, that I could feel it through the page, all the way in India.
I've never read a good book set in Africa before, much less one from a refugee's POV but HOLY CRAP did this book do a good job of everything it took on.
IDEA:
As I found out in the end of the book, the author worked with refugees in Kenya first hand, making her well-equipped people to tell the world their stories. I loved the revenge and mystery tied up in this book, stark against in's authentically African background – all the way from Sangui to the villages in the Democratic Republic of Congo. I loved that this book was a murder mystery that also managed to capture the violence and war of the place it was set in, making them both equally important.

PLOT:
While the idea for the book was good, the execution was even better. Just as I started feeling annoyed that Tina was stuck in the same place in Sangui, Natalie Anderson upped and moved the book to a whole different atmosphere and I loved it.
The plot, especially how Tina unravels her mother's secrets is SO GORGEOUSLY done. She's this headstrong character finding out that she didn't know some of the most important things about the woman who brought her into this world and the journey I took with her was absolutely heart-breaking.
The only think that I felt could have been better was the ending
.
City of Saints and Thieves
ended in this guns blazing
thing
that felt like something straight out of a third rate action movie. The rest of the book had me on the edge of my seat, unsure about what would happen but as soon as the guns came out and the helicopter, I knew the ending from a mile away.
CHARACTERS:
If I haven't praised Tina enough already, I absolutely HAVE to say that I LOVED HER SO MUCH. Her voice was so powerful, it was one of the first things I noticed about this book. She was in pain and yet so strong and trust me, if you read this book you'll fall in love with her too.
I really liked Boyboy and Michael too. They were awesome sidekicks, but I find myself wishing that the three of them were equals and not sidekicks to Tina. They did have some great qualities, they were just drowned out by Tina's light.


CONCLUSION:
Obviously, if the FIVE star rating didn't already tell you, THIS BOOK WAS AMAZING. I honestly expected to like it, but not fall in love with it as much as I am right now.
A wonderful, truthful and powerful book that you simply shouldn't miss if you call yourself a reader.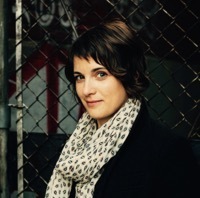 Natalie C. Anderson is a writer and international development professional living in Boston,
Massachusetts. She has spent the last decade working with NGOs and the UN on refugee relief and development, mainly in Africa. She was selected as the 2014-2015 Associates of the Boston Public Library Children's Writer in Residence, where she wrote her debut novel,
City of Saints and Thieves
.
Have you read City of Saints and Thieves? What did you think of it?
Are there any other books set in Africa (fictional of course) that you've read and that I absolutely NEED to?
What are some of your favourite murder mystery novels?
I can't wait to hear from you lovelies!