Title:
Koi Good News?
Author:
Zarreen Khan
Publication Date:
May 21st 2018
Publisher:
HarperCollins India
Part of a Series?:
No, A Standalone
I Got A Copy Through:
HarperCollins India (THANK YOU!)
Buy Links: Amazon IN || Infibeam || WHSmith || Google Books
Blurb Description:

The hilarious private journal of a highly public pregnancy.




When Mona Mathur of Dehradun married her college sweetheart, Ramit Deol of Amritsar, there were two things she wasn't prepared for:




1. The size of the Deol family – it put any Sooraj Barjatya movie to shame.




2. The fertility of the Deol family – they reproduced faster than any other species known to mankind.




It's been four years since their wedding, and Mona and Ramit have done the unthinkable – they've remained childless. Of course, that also means that they've battled that one question day in and day out: 'Koi Good News?'




It doesn't matter that they have been happy to be child-free – they are married; they are expected to make babies. After all, there are grandparents, great-grandparents, uncles, aunts and even colony aunties in waiting.




Now, the truth is, Ramit and Mona had been trying to conceive for the past one year. But having a baby isn't as easy as it's made out to be.




Finally, aided by the wine at their highly glamorous neighbours' party, Mona gets pregnant. And so begins a crazy journey – complete with interfering relatives, nosy neighbours, disapproving doctors, and absolutely no privacy!




Honest, relevant and thoroughly irreverent, Koi Good News? is the funniest book you'll read this year
There comes this book, once in a while, that has you reading and reading, laughing and falling in love and reading some more, until you've somehow reached the last page and there's no more to read on.
There comes this book, once in a while, that makes you fall for the characters because they're seem so real, and as if the entire story unfurled before your very eyes.
Koi Good News? Was one of those books for me – hilarious, real, addicting and just a big, book shaped piece of fun.
THINGS I LOVED ABOUT THIS BOOK:
1.
The Alternating Viewpoints:
Koi Good News
is told, quite funnily, in both a husband (Ramit) and a wife's (Mona's) perspective before and during their first pregnancy. Their quick dialogues, sarcasm and the general way they described their everyday lives was the essence of one of my new favourite books.
2.
The Mother and the Mother-In-Law:
I absolutely loved both Ramit and Mona's mothers, who played SUCH a huge roll in the story. They were the perfect, slightly-overbearing, over-concerned and always there when you need them Indian mothers and the representation was WONDERFUL!
3.
The Huge Deol Family:
As the blurb promises, Ramit's family is HUGE, boisterous, perfectly
Indian, extremely nosey and the scenes with them made me laugh, partly because of how accurate it was and partly because I FEEL the exasperation that Mona feels when I'm around my extended family/ bheed.
4.
All the Laughs:
Koi Good News?
Is a light hearted, well-written book that will leave a smile on your face, even after you've put it down. I honestly loved it so much, I handed it to my mother to read (since, you know, she's actually been pregnant) as well as recommended it to her sisters because IT'S JUST A BOOK WORTH READING, OKAY?
Would I recommend this book? Well, I mean, I read the whole thing within four hours and in one sitting, so YES, IT WAS A GOOD BOOK AND PLEASE CONSIDER THIS AS ME THROWING IT IN YOUR FACE.
An un-putdownable, real and hilarious account of a highly public pregnancy complete with the perfect over-bearing Indian family and superstition and all the laughs!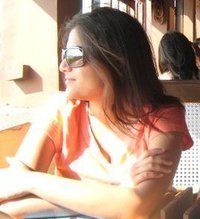 After working for Pepsi, Hindustan Times and ACNielsen for ten years, Zarreen Khan decided to take
a break and raise two children, who are sometimes kind enough to let her role-play as a marketing consultant. She lives in Delhi with her husband. Koi Good News? is her second book.
What are some of the funniest books you've EVER read?
What are some of your favourite books with Desi Characters?
I'd love to hear from you!