Title: ...And A Happy New Year?
Author: Holly Bourne
Publication Date: November 1st 2016
Publisher: Usbourne Publishing
Part of a Series?: Yes, Book 3.5/3 of the Spinster Club Series
I Got A Copy Through: Usbourne (THANK YOU!)
Buy Links: Amazon IN || Amazon US || Amazon UK || The Book Depository || Wordery || Foyles || Waterstones || WHSmith || Kobo || Google Books
Blurb Description:

Evie, Amber and Lottie are having a new year party to remember.




For the first time since leaving college, all three girls are back together. It's time for fun and flirting, snogs and shots.




(And not tears or tantrums or terrible secrets)




Because everything's going great for these girls - Spinster Club for ever! Right?
I was in the middle of a grueling round of mid-terms when I read this book, and the book before it -
What's A Girl Gotta Do?
because waiting has
never
been my strong suit. I had three days for four papers AND I was sick so that should tell you
how utterly excited I was for these last two books in the series.
While What's A Girl Gotta Go? Was like a second calling – THE BOOK that I'd been waiting for, the conclusion (And A Happy New Year) felt petty and predictable in comparison. In fact, there was nothing of real importance that happened.
Since it was an epilogue of a book released a while AFTER book three, What's A Girl Gotta Do? I suppose it would be meant more to people who read it as the books released, but it was less than a day since I said goodbye to the characters and then opened the book set in a world a year later.
What I Liked About The Book:
1.
The Multiple POVs:
The previous three books in the series were told from one of the core members of The Spinster Club. The first was Evie, then Amber and last, Lottie. This book alternated between the three girls, showing you what they'd been doing for the last year and an up close look at their problems. It was fun reading it from all three girls POV.
2.
THE GORGEOUS COVER:
It defied the theme that the previous three books were going with but I don't care because this book LOOKS BEAUTIFUL. The cover and the embossed version inside BOTH, I mean. I opened the dust jacket on a whim and it was so pretty on the inside too! EEK.
Things That SHOULD'VE BEEN BETTER:
1.
KYLE:
I like Kyle. He's a good guy. He's supposedly hot and fun but THIS GUY IS ONE GIANT BALL OF BROWN UNIVERSITY – GOING, BLOND AND TALL AND GORGEOUS (and a jock) and he's always struck me as a LITTLE TOO PERFECT.
I've honestly never seen his character undergo any kind of growth because he is perfection and that is SO UNBELIEVABLE TO ME. HOW EVEN?
2.
The Fact That Nothing Happened In This Book
: Honestly, the only problem in this book is that these girls hadn't
really
spoken to each other and for that there was throwing up and drunk people, a bucket-load of tears and a break up because of a lack of communication. I wish this had been better, to be honest.
I'm glad I read this book, I could NEVER regret reading this series but I wish it had just ended better, you know? 3 stars.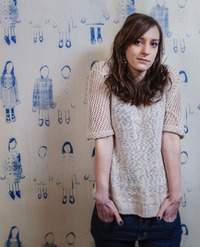 Holly Bourne writes YA novels and blogs about feminist issues. Her favourite things to complain
loudly about are: the stigma of mental health, women's rights, and the under-appreciation of Keanu Reeves' acting ability.
Holly's first two books, Soulmates and The Manifesto on How to be Interesting, have been critically acclaimed and translated into six languages. The first book in the 'Normal' series, Am I Normal Yet?, has been chosen as a World Book Night book for 2016 and has inspired the formation of Spinster Clubs around the country.
Before becoming a full-time author, Holly was editor and relationship advisor for a charity website.
Follow her on Twitter to stay updated!
What do you think about epilogues? Or short stories? Do you love or hate them?
Have you read The Spinster Club Series yet? What did you think of it?
Which book contain some of the BEST teenage friendships in your opinion?
I can't wait to read your recommendations and hear from you!