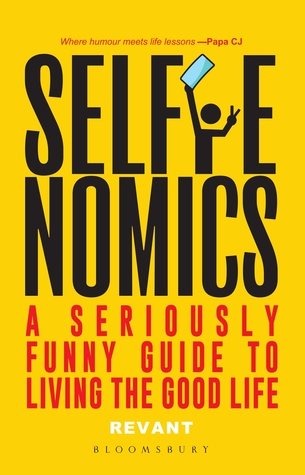 Title:
Selfienomics: A Seriously Funny Guide To Living The Good Life
Author:
Revant Himatsingka
Publication Date:
November 3rd 2016
Publisher:
Bloomsbury India
Part of a Series?:
No, A Standalone
I Got A Copy Through:
Bloomsbury India (THANK YOU!)
Buy Links: Amazon IN || Flipkart || Snapdeal || Infibeam ||
Blurb Description:

"Original version of a #selfie: Taking a photo of yourself rather than having someone else take it for you. You try out various filters and select the one that makes you look your best. #Selfienomics version of a #selfie: reflecting on different aspects of your life and taking the initiative to improve so that you can be the best version of yourself."




And so begins Selfienomics, the first Indian self-help book written for young people by a young entrepreneur who speaks their language. Offering workable, practical advise on how to manage finances, start a business, complete creative projects and how to be a better citizen, Selfienomics is so funny, upbeat and entertaining, it's not just a must-read but also a mast-read.
I bet the MINUTE you read this title, alarm bells went off in your head:
NON-FICTION? Really? What was she THINKING?
Don't worry, I thought the same. Or well, if you gave this book to me six months ago, I would have.
On June 24th, I walked into freshman orientation at college, and one week later at a Personal Development class I got asked a question: "Why should a company hire YOU? There are over 500 undergraduates in this state doing the same course you are, multiplied by 28 states in the country, multiplied by all the undergrads in the world."
"So, why should somebody hire YOU?"
Suffice to say, there were nightmares that followed.
I learnt, through the class, that the only way to get hired is to be better than the fray and so when the lovely folks at Bloomsbury India sent over a Guide to Live The Good Life, I thought that it could only help me.
Still, having never read Non-Fiction, the apprehension was omnipresent.
While I won't say I've transformed into a better person magically, I will say that Selfienomics has some GREAT advice for teenagers and young adults, directed towards making you think about your life, money, jobs and relationships and what it means (and how) to be a socially active, financially responsible youngster in the world today.
""If we compare ourselves to anything, it should be to our own potential.""
If you're a college kid, or working your first job or trying to get out of your first job and move onto something better, this book will probably give you the motivation you need. Whether it's wasted time or productive doing nothing time, dreaming or visualizing, convenience or logic and morals,
Selfienomics
ACTUALLY explains to you (with hashtags and humour) what you COULD be doing wrong, what might be better, but most importantly, encourages you to THINK about it all.
While Selfienomics was certainly a more entertaining read than I expected it to be, and even more helpful than I expected it to be, it's the kind of book you need to read again and again, at different parts in your life for it to keep striking home.
So, before you write it off as "Oh NONFICTION. Why bother?" maybe consider that something along these lines could be beneficial to where you want to go, and who you want to be.
Selfienomics
was a surprisingly fun and helpful read that I would genuinely recommend to all young adults!
Have you read any good non-fiction that you would recommend to all young adults? If you have a job, any tips and tricks?
I would LOVE to hear from you.