Hi Everyone!
I know you've been waiting for author number two, and that I've gone off schedule, and I AM SO SORRY.
I had two of my hardest mid-term papers thrown together into one day and the result was me just wanting to sleep my way through life.
Here I am, now, with author number two. I am SO SO HAPPY to welcome the AMAZING New York Times bestselling author,
Katharine McGee,
author of
The Thousandth Floor
onto the blog.
Katharine visited my country - India - a few years ago and she's talking ALL ABOUT her trip here (for your travel itineraries) and how India influenced
The Thousandth Floor!
Also, don't forget to enter the giveaway!
In 2014, I got the opportunity to visit India through my graduate program, with a group of twenty students and several professors. I decided to use this blog post to tell you guys about that incredible, magical, whirlwind trip: partially because it's a fun change from writing about my novel,
The Thousandth Floor
(though of course I love that too!), but also because my experience in India affected how I thought about the future world of the novel.
Our group, visiting an Indian temple
Our trip began in New Delhi, India's capital city. We took a rickshaw ride around the open-air markets that very first morning—and even for an (adopted) New Yorker, New Delhi felt overwhelming! The streets wind and twist over each other, and many of them are unmarked, especially in the market district. I would absolutely have gotten lost if we hadn't had a guide! I loved watching the shoppers bargaining and gossiping, clustering around the colorful stalls that spilled onto the streets. It was loud and bustling and pulsed with a contagious, almost frantic energy.
Jumping for joy at the Taj Mahal!
Our group had some incredible meetings in Delhi. We heard from the Director of India's National Bank; we visited Ratan Tata of the Tata Group, India's largest conglomerate; and we spoke with several nonprofits that work with India's youth. We also took a day trip to Agra to see the Taj Mahal, which is just as breathtaking as I'd always imagined. The entire building is intricate, covered with beautiful carving and lush romantic detail. I was fascinated by the story, too: originally there was supposed to be another building facing the Taj Mahal, made entirely of black stone, but it was never constructed. Of course the Taj Mahal is a wonder all its own, but I couldn't stop imagining how it would have looked with a darker mirror directly opposite. (That image, of two buildings facing each other—one made of white stone and one made of black—stayed with me. You'll see more when you read The Dazzling Heights, the sequel to The Thousandth Floor :)
Meeting Bollywood celebrity Shahrukh Khan
We then headed south to Mumbai. If Delhi is India's Washington D.C., since it houses the national government, then Mumbai is New York and Los Angeles rolled into one. Most of India's banks and major companies are located there, as well as all of Bollywood! I absolutely loved Mumbai, with its palm trees and warm weather and open-air restaurants on rooftops. Of all my characters, I have to say Mumbai reminded me the most of Eris. It's just the right combination of glamorous and hectic for her!
Without a doubt, the coolest thing we did in Mumbai was meet the Bollywood star Shahrukh Khan. I've been obsessed with his movies ever since that day! (My favorite is
Dilwale Dulhania Le Jayenge
, which loosely translates to "The Brave-hearted Will Win True Love." It's a fantastic romantic comedy about two people who fight to be together despite the odds… not unlike some characters in The Thousandth Floor! If you haven't seen it, I highly recommend it!)
Getting cozy on the overnight train!
Finally, we finished our trip by taking the overnight train to the beach town of Goa. I had never taken an overnight train before, and I was surprised by how easy it was. Of course, in the future world of The Thousandth Floor, thirteen-hour trains are a thing of the past—you can get everywhere on the Hyperloop, which uses frictionless magnetic propulsion to reach superspeeds! After the train, we spent a day at the beach, and then we capped it off with the very best part the trip: a wedding! Our friend Guarav got married in Goa, and we were all invited to the sangeet.
I learned that night that traditional Indian saris are nearly impossible to tie. My roommate Kate and I watched at least a dozen YouTube instructional videos, but our saris still looked funny. On our way downstairs, an older Indian woman caught sight of us, and smiled. She didn't speak English, and we didn't speak Hindi, but we understood enough to realize that she was gesturing us over, shaking her head in amusement at how awful our saris looked! She reached for my shoulder and started to undo my sari—and we both ended up standing there while she very generously, and patiently, retied our saris for about ten minutes. I hope she understood what I was saying when I thanked her. (That's another thing I added to The Thousandth Floor—instant language translation through computerized contacts!)
beachside paradise in Goa
As I stood there that night, watching Guarav celebrate his marriage surrounded by family and friends, I couldn't stop thinking about the woman who'd tied my sari. It was such a lovely, thoughtful gesture—which encapsulates the way I felt about India overall. Everyone there had been so warm and friendly and engaging. Even in the massive population of 1.3 billion (!!), the country still felt approachable; because people took the time to slow down, and smile, and engage.
Wearing our saris (this time, properly tied!) I love that bright tangerine sari—I bought it in Mumbai and I still have it hanging in my closet, just in case!
J
Ultimately, that was the approach I took to the world of The Thousandth Floor. In the novel, I imagine a futuristic thousand-story skyscraper that houses tens of millions of people. A setting like that feel overwhelming, until you distill it down to a subset of characters, a series of interactions. In The Thousandth Floor, the story is as much about the moments—Avery looking up to see that Atlas is home; Cord tossing Rylin the bag of gummy candy; Eris sauntering down a hallway—as it is about the big, sprawling setting. Similarly, when I look back on India, of course I think about how expansive and busy and crazy it was. But more than that, I remember laughing on the train with my friends, and sitting quietly inside the Taj Mahal, and standing there while that wonderful Indian lady tied my sari for me.
Katharine McGee is originally from Houston, Texas. She studied English and French literature at
Princeton University and has an MBA from Stanford. It was during her years in New York, working as an editor by day and writing by night, that she began a manuscript about life in a futuristic skyscraper.
The Thousandth Floor
is her first novel.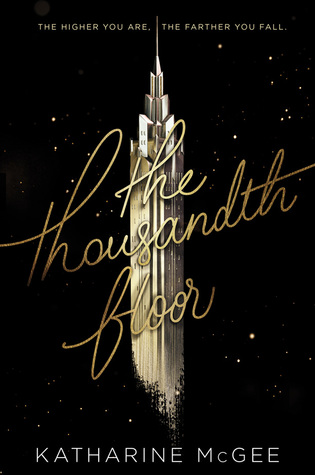 Title:
The Thousandth Floor (The Thousandth Floor #1)
Author:
Katharine McGee
Publication Date:
August 30th 2016
Publisher:
Harper Collins Publishers
Part of a Series?:
Yes, Book 1/2 of the Thousandth Floor Duology
Buy Links: Amazon || Barnes and Noble || Indebound || iBooks || Google Play Books || BooksAMillion || Books Of Wonder
Blurb Description:

NEW YORK CITY AS YOU'VE NEVER SEEN IT BEFORE.


A thousand-story tower stretching into the sky. A glittering vision of the future where anything is possible—if you want it enough.


WELCOME TO MANHATTAN, 2118.




A hundred years in the future, New York is a city of innovation and dreams. Everyone there wants something…and everyone has something to lose.




LEDA COLE's flawless exterior belies a secret addiction—to a drug she never should have tried and a boy she never should have touched.




ERIS DODD-RADSON's beautiful, carefree life falls to pieces when a heartbreaking betrayal tears her family apart.




RYLIN MYERS's job on one of the highest floors sweeps her into a world—and a romance—she never imagined…but will this new life cost Rylin her old one?




WATT BAKRADI is a tech genius with a secret: he knows everything about everyone. But when he's hired to spy for an upper-floor girl, he finds himself caught up in a complicated web of lies.




And living above everyone else on the thousandth floor is AVERY FULLER, the girl genetically designed to be perfect. The girl who seems to have it all—yet is tormented by the one thing she can never have.




Amid breathtaking advancement and high-tech luxury, five teenagers struggle to find their place at the top of the world. But when you're this high up, there's nowhere to go but down....
a Rafflecopter giveaway