I'm stuck under a MOUNTAIN of coursework that I'm barely surviving through
with super early mornings and barely any free time in my seven hours of daily classes.
Sigh. Plus, they extended college, essentially taking away my ENTIRE summer break and it makes me want to cry, The only thing that's keeping my afloat are the FAB books I'm reading that make me smile and the TV shows I'm bingeing. (Also, complaining to my friends.)
ANYWAY. SO SO Many books are coming out next month and I'm SO FREAKING EXCITED! Here goes:
1. Traitor To The Throne by Alwyn Hamilton
The second book in the Rebel of the Sands trilogy that is due to release in America SO SOON (but my UK Paperback is already on the way) and I AM SO EXCITED FOR IT. I fell in love with Amani, Jin and the rest of their world and now I'm SUPER excited for all that will go on in the capital, in the palace.
Blurb Description: This is not about blood or love. This is about treason.


Nearly a year has passed since Amani and the rebels won their epic battle at Fahali. Amani has come into both her powers and her reputation as the Blue-Eyed Bandit, and the Rebel Prince's message has spread across the desert - and some might say out of control. But when a surprise encounter turns into a brutal kidnapping, Amani finds herself betrayed in the cruellest manner possible.




Stripped of her powers and her identity, and torn from the man she loves, Amani must return to her desert-girl's instinct for survival. For the Sultan's palace is a dangerous one, and the harem is a viper's nest of suspicion, fear and intrigue. Just the right place for a spy to thrive... But spying is a dangerous game, and when ghosts from Amani's past emerge to haunt her, she begins to wonder if she can trust her own treacherous heart.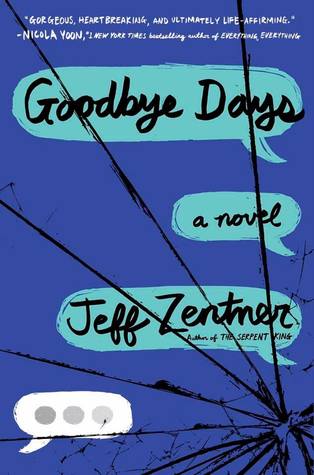 2. Goodbye Days by Jeff Zentner
I didn't think too much of Jeff's debut novel when I initially read the synopsis, but I bought into the hype and bought myself a Kindle version of the book. This ended in me curled up in my comforter, BAWLING MY EYES OUT, heart utterly broken and now I AM SO FREAKING EXCITED for his second book. If you haven't read these, you should.
Blurb Description:

Can a text message destroy your life?




Carver Briggs never thought a simple text would cause a fatal crash, killing his three best friends, Mars, Eli, and Blake. Now Carver can't stop blaming himself for the accident and even worse, there could be a criminal investigation into the deaths.




Then Blake's grandmother asks Carver to remember her grandson with a 'goodbye day' together. Carver has his misgivings, but he starts to help the families of his lost friends grieve with their own memorial days, along with Eli's bereaved girlfriend Jesmyn. But not everyone is willing to forgive. Carver's own despair and guilt threatens to pull him under into panic and anxiety as he faces punishment for his terrible mistake. Can the goodbye days really help?
3. Blood Rose Rebellion by Rosalyn Eves
Described as a book PERFECT for fans of Red Queen, THIS BOOK HAS ME SO EXCITED. I already have an eARC AND pre-ordered a copy because well, I NEED it. Rosalyn is such an awesome person, and I hope you had the chance to read her interview on the blog!
Blurb Description: The thrilling first book in a YA fantasy trilogy for fans of Red Queen. In a world where social prestige derives from a trifecta of blood, money, and magic, one girl has the ability to break the spell that holds the social order in place.


Sixteen-year-old Anna Arden is barred from society by a defect of blood. Though her family is part of the Luminate, powerful users of magic, she is Barren, unable to perform the simplest spells. Anna would do anything to belong. But her fate takes another course when, after inadvertently breaking her sister's debutante spell—an important chance for a highborn young woman to show her prowess with magic—Anna finds herself exiled to her family's once powerful but now crumbling native Hungary.




Her life might well be over.




In Hungary, Anna discovers that nothing is quite as it seems. Not the people around her, from her aloof cousin Noémi to the fierce and handsome Romani Gábor. Not the society she's known all her life, for discontent with the Luminate is sweeping the land. And not her lack of magic. Isolated from the only world she cares about, Anna still can't seem to stop herself from breaking spells.




As rebellion spreads across the region, Anna's unique ability becomes the catalyst everyone is seeking. In the company of nobles, revolutionaries, and Romanies, Anna must choose: deny her unique power and cling to the life she's always wanted, or embrace her ability and change that world forever.