Ack! I've been missing posts and I'm so sorry! I had a three hour college mandated aerobics class today and all I wanted to do was SLEEP after. Sigh.
Today I have with me the WONDERFUL
Sarah Porter
, author of
Vassa In The Night!
I heard of this book when I saw the September Owlcrate Box on all the beautiful #Unboxing pictures! ALSO, IT'S A MAGICAL REALISM NOVEL steeped in Russian Folklore and also plain bizarre-ness that I AM SO EXCITED FOR!
Please do read the interview with Sarah's AMAZING answers (her fictional crew is so cool!) and enter the awesome giveaway she is hosting!
Stay tuned, and in a few hours, I'll have another author for you to meet.
Welcome to the Blog, Sarah. It's such a joy to have you here.
We'd Love To Get To Know More About You:
1. Which five fictional characters would you have on your crew?
It depends on what we were trying to do. On my crew for saving the world, or just for hanging out?
Charlotte Holmes from A STUDY IN CHARLOTTE by Brittany Cavallaro would keep things snappy either way, and bring cunning and insight and a collection of macabre bric-a-brac with her. Arya Stark, for obvious reasons; I'm a dreamworldy nerd and badassery isn't my strong suit, so Arya would help make up for that. Octavian Nothing from M. T. Anderson's THE POX PARTY, for his unyielding, incisive nobility. Breq from Ann Leckie's IMPERIAL RADCH trilogy, because I love her, and because there's something about her quality of aching reserve that inspires such trust. And, let's see, Arsinoe from THREE DARK CROWNS by Kendare Blake; she isn't especially powerful, and she might not actually be that helpful in a save-the-world scenario, but she's also a character who could surprise you.
At the very least, this would make for an incredible dinner party!
2. If you could enter any fictional world, which one would it be and why?
I'd love to go to the world of Phillip Pullman's HIS DARK MATERIALS trilogy, because I want a daemon of my own. I was so envious of Lyra and the other characters, each with their own sidekick-soul in animal form. It made our world feel terribly lonely by comparison.
3. If you could have one superpower, what would it be?
The ability to explore the deepest parts of the ocean. I'd need to be able to resist the crushing pressure and the cold, as well as breathe underwater. Flying would be awesome, too, but I'd choose the sea over the sky. There's so much to discover!
And Now, Moving On To You Masterpiece:
4. If Vassa In The Night had a theme song, it would be
:
Hmm. "Wake Up" by Arcade Fire, since it's about the same kind of emotional struggle that Vassa goes through: to accept unbearable loss, to let her pain transform her instead of fighting and denying it, and then move on.
5. If you could give one piece of advice to each of your main characters, what would it be?
To Vassa: Oh, honey, it gets better! Be brave and keep going. You are loved far more than you can know.
To Night: Remember your own beauty, your billion constellations, the ecstasy of a mind made of stars. Seriously, why would you want to pretend to be human?
To Babs: You lost yourself when you betrayed your best friend, Bea. But Vassa is right; it might not be too late for you to win your redemption. Don't let your chance slip away!
To Erg: I'm not even going to try. It's not like she'd listen to me.
To Chelsea: You don't need my advice. If anything, I should be taking advice from you!
6. What was the hardest scene to write in Vassa In The Night?
It's so hard to answer this without spoilers! But there are two scenes right near the end that made me cry uncontrollably while I was writing them. I sobbed for a few days straight. I hope that anyone who's read the book will know what I'm talking about!
I write stories that seem to me to be quite true enough for all practical purposes. Among them are
VASSA IN THE NIGHT, THE LOST VOICES TRILOGY, and the forthcoming WHEN I CAST YOUR SHADOW and TENTACLE AND WING. Realism makes little sense to me and I experience more truth in the fantastic. I always have new novels underway, both Young Adult and Grownup/ Literary/ Speculative. When not writing my own weird stuff, I can often be found leading creative writing workshops with amazing young NYC public-school writers via Teachers & Writers Collaborative. Or I might be drawing, or gardening, or wandering wraithlike through the streets. I live in Brooklyn, land of mystery, with my awesome husband Todd and our two cats, Jub Jub and Delphine.
Represented by Kent D. Wolf of the Friedrich Agency.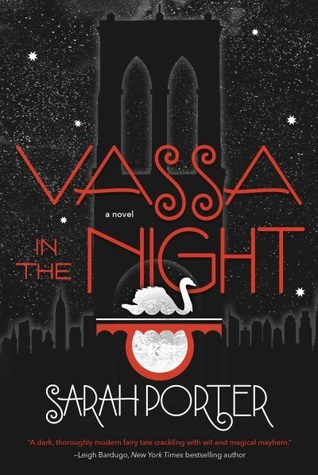 Title:
Vassa In The Night
Author:
Sarah Porter
Publication Date:
September 20th 2016
Publisher:
Tor Teen
Part of a Series?:
No, A Standalone
Buy Links: Amazon || Barnes and Noble || The Book Depository || Wordery || BooksAMillion
Blurb Description:

In the enchanted kingdom of Brooklyn, the fashionable people put on cute shoes, go to parties in warehouses, drink on rooftops at sunset, and tell themselves they've

arrived

. A whole lot of Brooklyn is like that now—but not Vassa's working-class neighborhood.




In Vassa's neighborhood, where she lives with her stepmother and bickering stepsisters, one might stumble onto magic, but stumbling away again could become an issue. Babs Yagg, the owner of the local convenience store, has a policy of beheading shoplifters—and sometimes innocent shoppers as well. So when Vassa's stepsister sends her out for light bulbs in the middle of night, she knows it could easily become a suicide mission.




But Vassa has a bit of luck hidden in her pocket, a gift from her dead mother. Erg is a tough-talking wooden doll with sticky fingers, a bottomless stomach, and a ferocious cunning. With Erg's help, Vassa just might be able to break the witch's curse and free her Brooklyn neighborhood. But Babs won't be playing fair…
a Rafflecopter giveaway