Welcome to Day 2 of the 2017 Meet The Authors Feature of my blog.
I have with me today Audrey Coulthurst, debut author of the fantasy novel,
Of Fire And Stars,
which is about a Princess who is
betrothed to a Prince
from another kingdom, whose sister is teaching her how to control Magic and then THEY FALL FOR EACH OTHER.
I have been obsessed with this story, and it is DEFINITELY the next thing I buy because EEK.
So, welcome Audrey to A Thousand Words A Million Books. Don't forget to enter the giveaway!
Age: 18 years
Height: 5'8"
Body type: athletic & curvy
Hair: auburn/red
Complexion: fair/freckled
Eyes: gray
Occupation/interests: Princess of Mynaria/training her horse, mounted archery, sneaking out of the castle to spy for her uncle.
Personality: brash, cocky, rebellious
Quote: "Love should feel like the first time you gallop a horse flat out. It should make your blood sing. It should terrify you. And some part of you should recognize it the first time you meet the other person's eyes."
Age: 16 years
Height: 5'2"
Body type: petite
Hair: dark brown, almost black
Complexion: fair
Eyes: light green
Occupation/interests: Princess of Havemont, betrothed to the prince of Mynaria/playing harp, scholarly pursuits, trying to uncover the secrets of her forbidden fire magic.
Personality: polite, kind, clever
Quote: "If I'm to be queen someday, I should see the city from the perspective of its people. I should try to understand them so that I may rule more wisely."
Name: Nils
Age: 18 years
Height: 6'1"
Body type: lean/muscular
Hair: brown
Complexion: tan
Eyes: brown
Occupation/interests: liegeman (guard)/flirting, keeping an eye on Mare when she sneaks out of the castle.
Personality: charming, genuine, kind
Quote: "Well, the lady does enjoy a bit of . . . jousting."
Name: Prince Thandilimon "Thandi"
Age: 16 years
Height: 5'11"
Body type: lean
Hair: blond
Complexion: fair
Eyes: blue
Occupation/interests: Prince of Mynaria/interested in politics, exploration, the ocean (which he has never seen).
Personality: hotheaded, determined
Quote: "I know you don't have to love me, but I thought maybe you could. Someday."
Audrey Coulthurst writes YA books that tend to involve magic, horses, and kissing the wrong people. When she's not dreaming up new stories, she can usually be found painting, singing, or on the back of a horse.
Audrey has a Master's in Writing from Portland State University, is a member of SCBWI, and studied with

Malinda Lo

as a 2013 Lambda Literary Foundation Fellow. She lives in Santa Monica, California.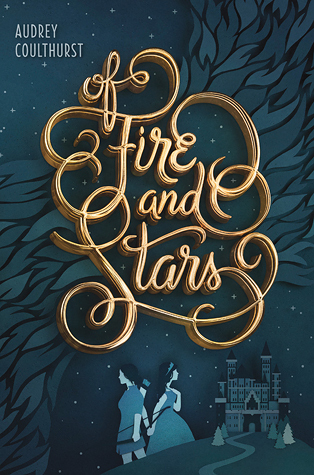 Title:
Of Fire And Stars
Author: Aurdery Coulthurst
Publication Date: November 22nd 2016
Publisher: Balzer + Bray
Part of a Series?: No, A Standalone Novel!
Buy Links: Amazon US || Wordery || Barnes and Noble || The Book Depository || Google Play Store || Kobo
Blurb Description:

Betrothed since childhood to the prince of Mynaria, Princess Dennaleia has always known what her future holds. Her marriage will seal the alliance between Mynaria and her homeland, protecting her people from other hostile lands. But Denna has a secret. She possesses an Affinity for fire—a dangerous gift for the future queen of a kingdom where magic is forbidden.




Now, Denna must learn the ways of her new home while trying to hide her growing magic. To make matters worse, she must learn to ride Mynaria's formidable warhorses—and her teacher is the person who intimidates her most, the prickly and unconventional Princess Amaranthine—called Mare—the sister of her betrothed.




When a shocking assassination leaves the kingdom reeling, Mare and Denna reluctantly join forces to search for the culprit. As the two become closer, Mare is surprised by Denna's intelligence and bravery, while Denna is drawn to Mare's independent streak. And soon their friendship is threatening to blossom into something more.




But with dangerous conflict brewing that makes the alliance more important than ever, acting on their feelings could be deadly. Forced to choose between their duty and their hearts, Mare and Denna must find a way to save their kingdoms—and each other.
a Rafflecopter giveaway