Hi Again!
I have seriously forgotten what the number of this Meet The Authors post is, so I'm just going to say Welcome Back! I still have six briliant authors coming on to the blog after today's author, and I hope you fall in love with them and their books as much as I have.
For today, I have the LOVELY Erin Summerill, author of
Ever The Hunted!
I've had an ARC of this book for a long time, and I'm going to start it any day now and I AM SO EXCITED.
Ever The Hunted
is about the lovely Britta Flannery, whose father, the bounty hunter is killed and she's tasked with finding his killer - the boy who broke her heart.
I am SO excited (like I gushed earlier) about this book, and also at having Erin on the blog!
Welcome, Erin, to a Thousand Words A Million Books, and thank you so much for being here.
We'd Love To Get To Know More About You:
1. If you could be stranded on a deserted island with one fictional character, who would it be?
I would choose Katsa from Graveling!!!! She's the ultimate survivor and I know she would figure out a way for us to make it off the island alive. Also, she's fascinating.
2. Your top five favourite YA books are:
This is so hard. I love reading so much more than walking or talking or regular life. So here goes --
1. The Queen of Attolia by Megan Whalen Turner
2. Graceling by Kristin Cashore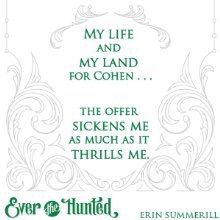 3. The Wrath and the Dawn by Renee Ahdieh
4. Matched by Ally Condie
5. Throne of Glass by Sarah Maas
3. If you could travel in time, where would you visit first (fictional answers allowed)
I would go to the 1800's Hawaii. It would help a lot in the research I'm doing for an upcoming project.
Or I would pop on over to Scotland and visit the Outlander cast
And now, moving onto your masterpiece:
4. How did you find out you were getting published?
My agent called me and said, "Erin, we have an offer." I don't know what he said after that because I started screaming, which then turned into ugly crying. It was the greatest day ever.
5. If you could describe Ever The Hunted in five words, they would be:
Girl hunts accused father's murderer
hot boy helps girl hunter...you decide...ha ha
6. Where did you get the idea for Ever The Hunted?
The idea came from a few different places. I've always been entranced by the Redwoods in California and the Oregon coast. After taking a family trip there, I wanted to set a book in a wooded setting. But I didn't realize I wanted to write about a hunter until my friend, Madalyn, confessed she was into hunting. While traveling to New Zealand with Madalyn, she spent 13 hours telling me about all things hunting. By the end of the trip, I knew my character needed to be proficient in the woods with medieval weaponry--thus, a dagger and a bow.
It was a big step out of my comfort zone since I'm not by any means a hunter. I don't particularly like red meat. And my version of camping in the great outdoors involves a pimped-out travel trailer, showers with hot water, and food heated in a microwave.
But I loved venturing into the Ever Woods with Britta. Hopefully you will too!
Erin Summerill was born in England. After spending years bouncing between Air Force bases in
Hawaii, England, and California, her family settled in Utah, where Erin graduated with a B.A. in English from Brigham Young University. She had aspirations to write the next great American novel, but writing proved tougher than she first thought. So she grabbed a Nikon and became a professional photographer while crafting manuscript after manuscript. The scenic detour of shooting weddings across the United States, as well as internationally, provided world-building inspiration. It gave her the vision to draft her debut YA fantasy, EVER THE HUNTED. Now when she isn't writing, or shooting a wedding, she's chasing her four kids, two dogs, one cat, and five chickens. This could be why she downs massive amounts of Coke Zero and Hot tamales.
You can follower her on twitter: @erinsummerill
Author: Erin Summerill
Publication Date: December 27th 2016
Publisher: HMH Books for Young Readers
Part of a Series?: Yes, Book 1/2 of the Clash Of Kingdoms Duology
Blurb Description:

Seventeen year-old Britta Flannery is at ease only in the woods with her dagger and bow. She spends her days tracking criminals alongside her father, the legendary bounty hunter for the King of Malam—that is, until her father is murdered. Now outcast and alone and having no rights to her father's land or inheritance, she seeks refuge where she feels most safe: the Ever Woods. When Britta is caught poaching by the royal guard, instead of facing the noose she is offered a deal: her freedom in exchange for her father's killer.




However, it's not so simple.




The alleged killer is none other than Cohen McKay, her father's former apprentice. The only friend she's ever known. The boy she once loved who broke her heart. She must go on a dangerous quest in a world of warring kingdoms, mad kings, and dark magic to find the real killer. But Britta wields more power than she knows. And soon she will learn what has always made her different will make her a daunting and dangerous force.
a Rafflecopter giveaway