If you're a blogger you know that your one biggest struggle and happiest part of your life is the SIZE OF YOUR To Be Read Pile.
As soon as I see mind dwindling, I'm usually composing emails to all the publicists who feed my addiction, requesting more and when some or all of them arrive, I'm always thinking about how I wish I had more time to read the books I actually bought for myself.
The cycle is one of the best and worst things about my life. Anyway, here's my Stacking The Shelves for the last few weeks.
I got even more titles over the last two days but I'll be saving that for next week's STS!
FOR REVIEW:
From the Authors:
1. Before She Ignites by Jodi Meadows
(from the AMAZING Jodi Meadows)
I'm a part of the OQSG (Orphan Queen Support Group) on Facebook for lovers of the Orphan Queen series. Jodi, who lets us know pieces on info in advance like the amazing human she is sent ALL OF US ARCs of her latest novel,
Before She Ignites
and I AM SO EXCITED TO READ IT.
Seriously everybody,
Jodi is one of the SWEETEST authors
out there and you should definitely check all her books out.
2. The Brooding YA Hero: Becoming a Main Character (Almost) as Awesome As Me:
(From the AMAZING Carrie DiRisio)
When Carrie Ann DiRisio, author of this gorgeous play on YA tropes told from the point of view of a Brooding YA Hero contacted me for the chance to review her book, there was no way I could pass it up! If you're an avid YA reader and haven't seen
@BroodingYAHero
on Twitter, head there now and prepare for all the laughs.
You can also see
my #BroodyBFF Mood Board and Writing Playlist here!
From Penguin India:
1. Man of her Match by Sakshama Puri:
I don't read many Indian contemporary romances, but when I saw the synopsis of this book, I knew I simply HAD to have it. I dove into this book almost as immediately as I received it and it was filled with sass, humor and a romance I won't forget for a while!
You can read my review here.
From Harper Collins India:
1. Not If I See You First by Eric Lindstorm:
I got this book a couple of weeks ago from Harper, and I'm so excited for this book that features a blind MC re-uniting with the boy who broke her heart and it sounds AMAZING to me. Plus, the cover has Braille on it which makes it so much more authentic and I couldn't be more excited.
Maybe I'll start reading it this weekend?
From Macmillan Intl:
1. Bad Romance by Heather Demetrios
This is my first book my critically acclaimed Heather Demetrios and I FELL IN LOVE (I've already read it, that's how behind I am on my Stacking The Shelves posts) The cover is gorgeous and the abuse in this book is so well done. It's all about empowerment and what abusive relationships look like and to be really honest, we should be reading more books like this.
You can read my review here
2. In Some Other Life by Jessica Brody:
Jessica Brody, just like Heather Demetrios is another author I've heard WONDERFUL things about but hadn't read until the AMAZING Macmillan Intl send me an ARC of her book. In Some Other Life was a fun book, and even if it did have a few flaws, it was one I definitely recommend if you're looking for a light contemporary.
My review will be out closer to publication date.
3. Just Friends by Tiffany Pitcock
I was SO INTRIGUED by the plot of this "fake best friend romance" that I simply had to request it. I came out of it feeling like this book could definitely have been better but I don't regret reading it at all. It could have been more but it was a fun read nonetheless!
My review will be out tomorrow and Just Friends comes out this Tuesday, the 1st of August.
From NetGalley:
1. A Short History of the Girl Next Door by Jared Reck
I was so intrigued by this book that I flipped it open on my Kindle reader a WEEK after I got approved to read it! (An Achievement! YAY!) It was a good book, and certainly an intruguing plot but I honestly didn't like it all that much.
I'll share my full review on the blog closer to publication date
2. Invictus by Ryan Graudin
I first heard about this book in the brunch The Novl hosted during Book Expo America. I loved Ryan Graudin's
The Walled City
and when I saw this book available on NetGalley I knew I would have to read it.
I'm so excited to read another Ryan Graudin book because I loved the characters and world building in the one book of hers that I have read. SO SO EXCITED.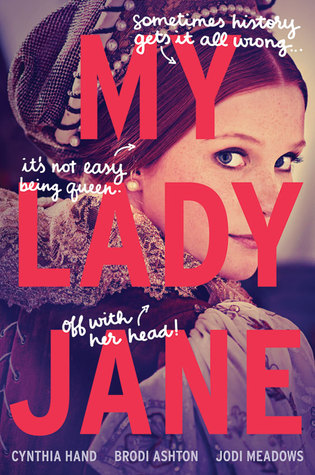 BOUGHT:
1. My Lady Jane by Jodi Meadows, Cynthia Hand and Brodi Ashton
HOW COULD I NOT BUY this wonderful book that one of my favourite authors, Jodi Meadows co-authored the SECOND it came out in Paperback? I'm so exited for the (not entirely) true tale about Lady Jane.
I honestly can't wait to start this book.
What have you stacked onto your shelves over the last few weeks? Have you already read some of the titles on mine?
I can't wait to hear from you!