Title: Daughter of the Siren Queen
Author: Tricia Levenseller
Publication Date: February 27th 2018
Publisher: Feiwel and Friends (Macmillan)
Part of a Series?: Yes, Book 2/2 of the Daughter of the Pirate Kind Duology
I Got A Copy Through: Macmillan Intl (Thank You!)
Buy Links: Amazon US || Barnes and Noble || The Book Depository || Wordery || Kobo || Books A Million || Chapters Indigo || Google Books
Blurb Description:

Alosa's mission is finally complete. Not only has she recovered all three pieces of the map to a legendary hidden treasure, but the pirates who originally took her captive are now prisoners on her ship. Still unfairly attractive and unexpectedly loyal, first mate Riden is a constant distraction, but now he's under her orders. And she takes great comfort in knowing that the villainous Vordan will soon be facing her father's justice.




When Vordan exposes a secret her father has kept for years, Alosa and her crew find themselves in a deadly race with the feared Pirate King. Despite the danger, Alosa knows they will recover the treasure first . . . after all, she is the daughter of the Siren Queen.
Actual Rating 4.5 Stars
The minute I saw an ARC of Daughter of the Siren Queen in a parcel from Macmillan International, I SCREAMED. I read Daughter of the Pirate King, the prequel and Tricia Levenseller's debut a few months ago and ever since then, I'd been ITCHING to get my hands on this book.
Despite the fact that I had so many pending ARCs and finished copies to review, I couldn't help the itch to reach out and read this BEAUTIFUL book and within a week or two of receiving it, I caved.
Daughter of the Siren Queen was a BRILLIANT book filled with pirates, love, family, betrayals, battles, twists, mythical creatures, chemistry and FEMINISM. It was the perfect combination of everything good in the fantasy world and I loved every second of being immersed in this book.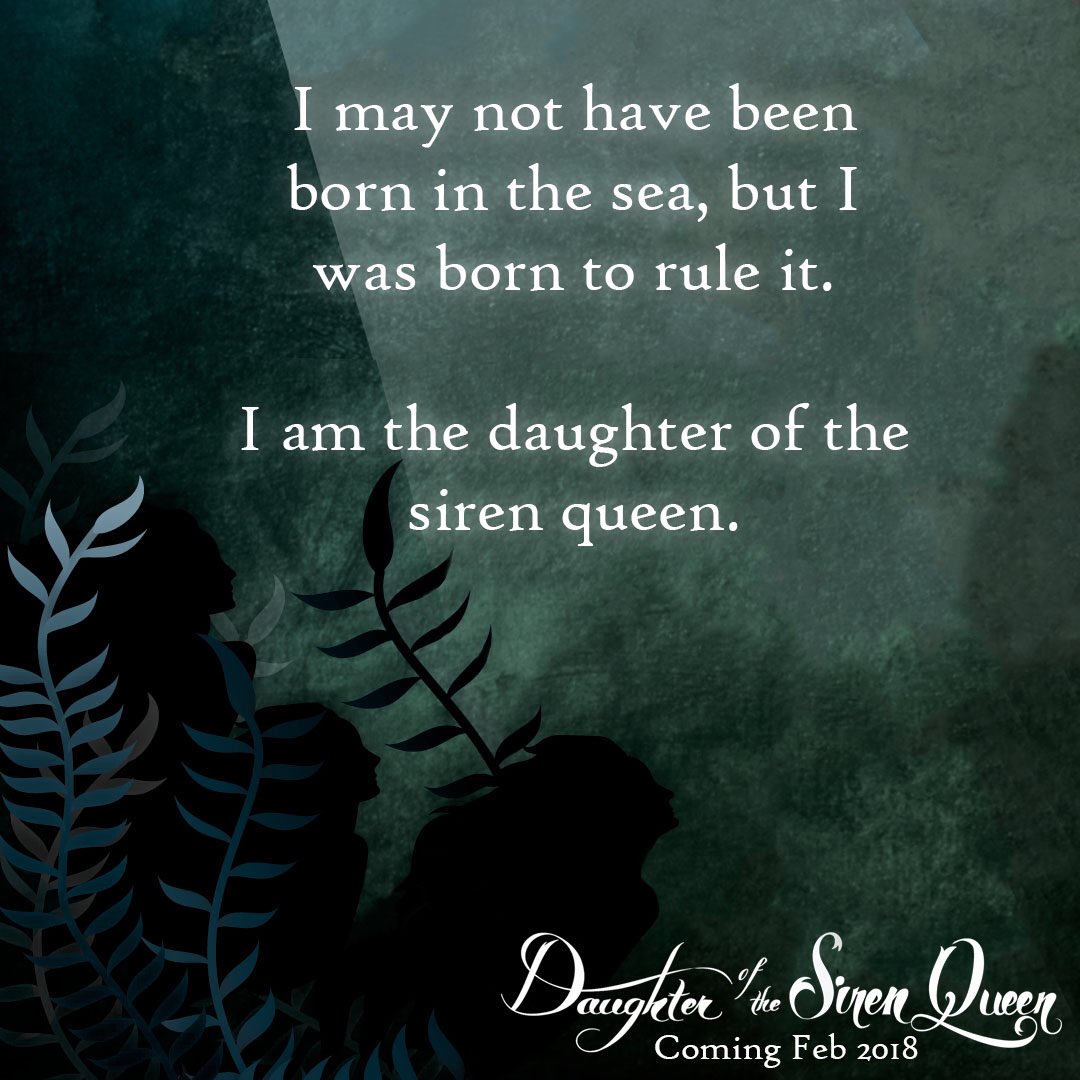 In fact, I NEED MORE BOOKS WITH ALOSA AND RIDEN AND THE AVA-LEE AND EVERYONE ONE IT because HOLY CRAP THEY ARE ALL SUCH AMAZING CHARACTERS AND DESERVE MORE STORIES.
My Thoughts:
1.
While the prequel,
Daughter of the Pirate King,
took me by surprise with how good it was, I pretty much EXPECTED it from
Daughter of the Siren Queen.
I expected it to be great, and this book lived up to my expectations.
2.
Like the first book, this story is mostly told on sea, aboard a pirate ship but this one is different because Alosa is no longer a prisoner and is back on her own ship. Most of her crew is made up of badass female pirates and I loved getting to know them especially Mandsy, Nirida and Sorinda.
3.
THE ALOSA AND RIDEN SCENES IN THIS BOOK ARE LIFE.
I absolutely loved how he tried to understand her as a half siren, and how she tried to deal with what she felt for him and why he kept her human. Their character development in this book was stunning, just like all their illicit kisses and arguments.
4.
Apart from her journey with Riden, Alosa made HUGE strides as both a Siren and a daughter in this book and how Tricia Levenseller made it all come to life was brilliant. I loved the way her mind worked, her Slytherin attitude, her fearlessness and her loyalty
. I will truly miss reading from her perspective.
5.
While this book was GREAT, it somehow just missed the
magic
that made
Daughter of the Pirate King
one of my favourite 2017 reads. I don't know if it was the fact that there were so many new characters, or the fact that I was expecting it to be brilliant, but this book ranks second to its prequel.
Would I recommend this series? HELL YES.
Daughter of the Siren Queen filled with feminism, sirens, magic, pirates, friendship, treasure and chemistry filled banter and IT'S EVERYTHING YOU NEVER KNEW YOU NEEDED IN YOUR LIVES. 4.5 Stars.
THE PIRATE KING, released earlier this year from Feiwel and Friends, an imprint of Macmillan Publishers.

Initially from a small town in Oregon, Tricia now lives next to the Rocky Mountains with her bossy dog, Rosy. She received her degree in English Language and editing and is thrilled that she never has to read a textbook again. When she's not writing or reading, Tricia enjoys putting together jigsaw puzzles, playing volleyball, and watching shows while eating extra-buttered popcorn.
Have you had a chance to dive into this series?! WHAT DO YOU THINK OF IT?
What are some of your favourite YA Feminist Fantasy Novels? PLEASE DO GIVE ME RECOMMENDATIONS BELOW!