Title:
Zenith (The Androma Saga #1)
Author:
Sasha Alsberg and Lindsay Cummings
Publication Date:
January 12th 2018
Publisher:
HQ Young Adult
Part of a Series?:
Yes, Book 1/2 of the Androma Saga
I Got A Copy Through:
Harper Collins India (THANK YOU!)
Buy Links: Amazon IN || Barnes and Noble || The Book Depository || Wordery || Infibeam || Foyles || Waterstones || WHSmith || Kobo || Books A Million || Chapters Indigo || Google Books
Blurb Description:

Most know Androma Racella as the Bloody Baroness, a powerful mercenary whose reign of terror stretches across the Mirabel Galaxy. To those aboard her glass starship,

Marauder

, however, she's just Andi, their friend and fearless leader.




But when a routine mission goes awry, the

Marauder

's all-girl crew is tested as they find themselves in a treacherous situation and at the mercy of a sadistic bounty hunter from Andi's past.




Meanwhile, across the galaxy, a ruthless ruler waits in the shadows of the planet Xen Ptera, biding her time to exact revenge for the destruction of her people. The pieces of her deadly plan are about to fall into place, unleashing a plot that will tear Mirabel in two.




Andi and her crew embark on a dangerous, soul-testing journey that could restore order to their shipor just as easily start a war that will devour worlds. As the

Marauder

hurtles toward the unknown, and Mirabel hangs in the balance, the only certainty is that in a galaxy run on lies and illusion, no one can be trusted
If you don't know it already,
I LOVE BOOKS SET IN SPACE. I love spaceships, the inventions, the villains – EVERYTHING.
Which is why, the minute I heard about
Zenith,
I knew it was a book I would be diving into.
Within less than a week of having it on my TBR, I reached for this book, unable to keep myself from the adventure in space it no doubt held for me. Before I dive into my thoughts on Zenith, I'd like to thank the lovely folks over at Harper Collins India for sending me an ARC of this book.
1.
An all-girl criminal space crew called the Mauraders trapped in a dangerous mission where all the things they've been running from come out to play
? THIS SYNOPSIS EXCITED ME SO MUCH. I was so eager to meet Androma Racella and the rest of her crew.
2.
Unlike the resistance I feel with most Sci-Fi and fantasy books, I managed to slip right into
Zenith's
world, and all of the Mirabel Galaxy. I did find a little hard to picture where each solar system was in the galaxy without a map in my ARC but I got used to it quite quickly.
3.
I ABSOLUTELY LOVE THAT THIS BOOK WAS TOLD FROM SO MANY VIEWPOINTS.
I definitely would have enjoyed it less if it had been told just from Androma's viewpoint because this book had so many different and interesting characters like Dex, Lira, Nor and Valen and reading through their points of view really let me get to know them.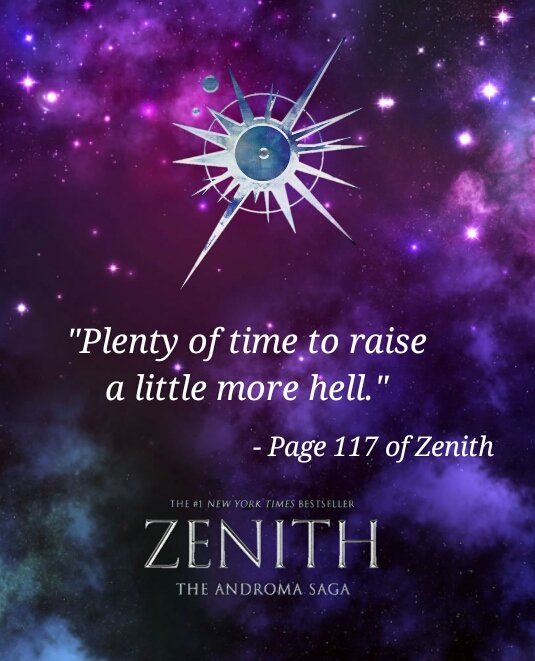 4.
While the book started off REALLY well, it sort of lagged in the middle.
I couldn't help but shake the feeling that the story was dragging
and that there were a lot of scenes that could have been cut away from this book
. I wish it had been MORE action filled like Nyxia or The Illuminae Files.
5.
THE ENDING OF THIS BOOK, AND A CERTAIN TWIST THAT WAS REVEALED WAS MIND BLOWING. I don't think I've fully processed what it all meant and what the very last scene means for the Galaxy as a whole but I LOVED THE ENDING. It was what I expected the whole book to be paced like.
6.
While I liked all the characters,
I didn't connect with any one of them SPECIFICALLY
. They were all nice and I liked the unravelling of their past, there was nobody that I felt that certain kinship with, and I hope that changes with book two.
A WONDERFUL start to a saga set in space, and I can't wait to see where this series takes me next. 4 stars.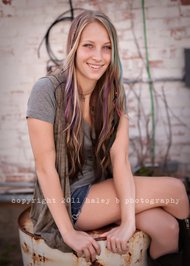 Lindsay Cummings is the #1 NYT Bestselling co-author of ZENITH, along with her duology, THE MURDER COMPLEX from Greenwillow Books/HarperCollins, and the MG trilogy THE BALANCE KEEPERS, from Katherine Tegen Books/HarperCollins. She is represented by Pete Knapp at Park Literary in NYC.
Lindsay deals with chronic fatigue, writes full time from her home in the deep woods in North Texas, and loves to chat with fellow book nerds. Lindsay created the #booknerdigans hashtag.
She's still waiting on her letter from Hogwarts--it was probably just lost in the mail. You can follow Lindsay on twitter @authorlindsayc or on instagram @authorlindsaycummings
Sasha Alsberg is the #1 NYT Bestselling Co-Author of ZENITH: The Androma Saga.
Have you read Zenith? What did you think of it?
What are some of your favourite books set in space? Are you a fan of the genre?
I would love to hear from you!