Title:
The Nowhere Girls
Author:
Amy Reed
Publication Date:
October 10th 2017
Publisher:
Simon Pulse
Part of a Series?:
No, A Standalone
I Got A Copy Through:
Simon Pulse via Netgalley (THANK YOU!)
Buy Links: Amazon US || Barnes and Noble || Wordery || Foyles || Waterstones || WHSmith || Kobo || Chapters Indigo || Google Books
Blurb Description:

Three misfits come together to avenge the rape of a fellow classmate and in the process trigger a change in the misogynist culture at their high school transforming the lives of everyone around them in this searing and timely story.




Who are the Nowhere Girls?




They're everygirl. But they start with just three:




Grace Salter is the new girl in town, whose family was run out of their former community after her southern Baptist preacher mom turned into a radical liberal after falling off a horse and bumping her head.




Rosina Suarez is the queer punk girl in a conservative Mexican immigrant family, who dreams of a life playing music instead of babysitting her gaggle of cousins and waitressing at her uncle's restaurant.




Erin Delillo is obsessed with two things: marine biology and

Star Trek: The Next Generation

, but they aren't enough to distract her from her suspicion that she may in fact be an android.




When Grace learns that Lucy Moynihan, the former occupant of her new home, was run out of town for having accused the popular guys at school of gang rape, she's incensed that Lucy never had justice. For their own personal reasons, Rosina and Erin feel equally deeply about Lucy's tragedy, so they form an anonymous group of girls at Prescott High to resist the sexist culture at their school, which includes boycotting sex of any kind with the male students.




Told in alternating perspectives, this groundbreaking novel is an indictment of rape culture and explores with bold honesty the deepest questions about teen girls and sexuality.
This book was heart-breaking and STUNNING and really dealt with rape and privilege and even feminism in the midst of it all and I was CRYING by the time I reached the end because I haven't had a book make me feel and think as much as The Nowhere Girls did in a WHILE.
THE NOWHERE GIRLS IS SUCH AN IMPORTANT BOOK FOR GIRLS EVERYWHERE. It's uplifting, real, heart-breaking and filled with girl power. The story itself is centred on girls from different ethnic and economic backgrounds as well as just girls with different personalities. In fact, most of the chapters are told from the point of view of 'Us' – that is, all these different and wonderful girls and IT WAS SO TOUCHING.
MY THOUGHTS:
1.
Before we go any further, this book might contain a lot of triggers from someone who is a victim of abuse, so
TRIGGER WARNINGS: Rape, sexual and physical assault, sexual harassment and panic attacks.
2.
This book was INTENSE. Not only the story itself, but the descriptions that came along with it – from what all the girls banding together felt and thought to the descriptions of the abuse itself. It didn't let up, because it was tackling such an important issue and I really appreciated the intensity.
3.
The first character we're introduced to is Grace Salter, who is an empathetic girl that is pretty much left to her own devices who lives in the room of a girl who was raped and run out of town.
Her viewpoint is harrowing and I loved the growth she went through in this book.
4.
Erin, the second girl we're introduced to, has Asperger's. I
love
that
we got to know Erin outside of where she stood on the spectrum, as well as about her disease.
We see how she views life and relationships and everything about her was wonderfully done.
5.
I'm still on the fence as to how I feel about the third girl – Rosina. I felt for her, definitely, but I didn't connect with her.
6.
Like I said in the beginning, though we were introduced to the world from these three girls'
viewpoints, a LOT of
the book was told from the Viewpoint of "Us." Us stands for all the girls that are a part of the town, facing different battles in their lives. They talked about double standards, choice, reputation, beliefs, experiences and SO MUCH MORE. Honestly, reading this book from an "Us" perspective made me CONNECT. It made this book heart-wrenchingly read and it broke me.
The Nowhere Girls is probably one of the MOST IMPORTANT BOOKS OUT THERE FOR TEENAGE GIRLS because it tackles the rape culture, patriarchy, double standards and misogyny and in the centre of it all, shows you how powerful girls standing by each other can be.
I could not recommend it more. This should be on all essential reading lists.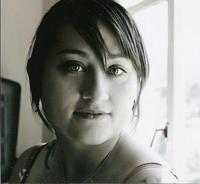 the time she was eighteen. Constant moving taught her to be restless and being an only child made her imagination do funny things. After a brief stint at Reed College (no relation), she moved to San Francisco and spent the next several years serving coffee and getting into trouble. She eventually graduated from film school, promptly decided she wanted nothing to do with filmmaking, returned to her original and impractical love of writing, and earned her MFA from New College of California. Her short work has been published in journals such as Kitchen Sink, Contrary, and Fiction. Amy currently lives in Oakland with her husband and two cats, and has accepted that Northern California has replaced the Pacific Northwest as her home. She is no longer restless. Find out more at amyreedfiction.com.

BEAUTIFUL is her first novel.
What are some of the more REAL books you've read?
Have you read other feminist centred books where Rape and the Patriarchy are taken on by Girls Banding Together?
If you've read more books like this, I WOULD LOVE TO HEAR YOUR RECOMMENDATIONS.