Hi Everyone,
Welcome to my stop on the
Gray Wolf Island
Sunday Street Team Blog Tour! I have the pleasure of being a co-host for the Sunday Street Team and it is my absolute pleasure to be a part of this tour as well!
I just finished reading the MARVEL that is Tracey Neithercott's debut novel,
Gray Wolf Island
and I hope all of y'all enjoy my review (AND the International giveaway that comes along with it)
If you're interested in signing up for the Sunday Street Team, please do check out this form on Nori's (the Sunday Street Team founder and all around awesome person) blog ~
Read Write Love 28
The very first thing I heard about this book was that it gave off a Raven Boys vibe.
All it took was those three words, and I was IMMEDIATELY sold on Tracey Neithercott's upcoming debut novel, Gray Wolf Island. A bunch of slightly mystical teenagers on a quest to find treasure coupled with that spooky book cover and for fans of The Raven Boys? I NEEDED TO READ THIS BOOK.
I got through the entirety of this 330-ish paged book in a little less than a day and I can honestly say that while Gray Wolf Island isn't the BEST book I've read in 2017, it comes pretty close. There were a few drawbacks, however, so let's go more into detail: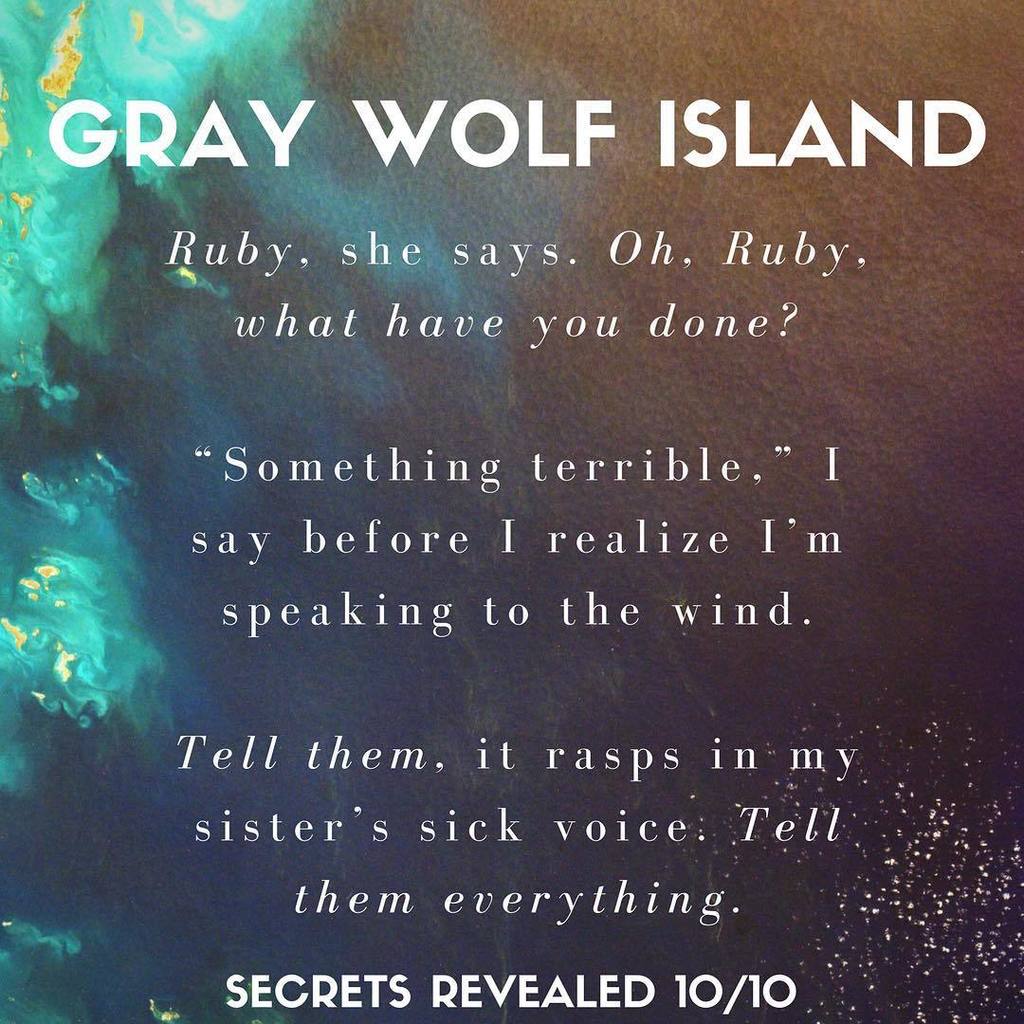 THINGS I LOVED:
1.
THE CHARACTERS:
What's a story without good characters, really? It took me all of three chapters to get used to Ruby, Anne, Gabe, Elliot and Charlie and slip into their mystical world, and within the next five I felt like I knew them as well as I knew anyone I've known for years.
I loved the playfulness, the banter and the camaraderie between all five treasure hunters. I LOVED that Elliot was a know it all and I ADORED the chemistry between Ruby and Elliot.
Tracey Neithercott's characters were some of the best characters I've read in terms of the way they jumped out of the page and connected with me and I can't wait for more from her.
2.
ALL THINGS TREASURE RELATED:
This isn't much of a spoiler since you find it in Chapter two or Three but Ruby finds a treasure map in the back of
Treasure Island
which coincidentally is one of my favourite treasure hunting books of ALL TIME. I read it back when I was eleven and I've loved it since. This only boosted the fact for me that this book was ALL ABOUT HUNTING FOR TREASURE.
The clues, the riddles, the mistakes, the suspense was all really well done and I loved it.
THINGS THAT COULD HAVE BEEN BETTER:
1.
THE MYSTICISM:
For all its talk of a mystical island that housed an unimaginable treasure and characters with such mystical backgrounds
(A boy born to a virgin and a boy who has seen visions of his own death?!)
I DIDN'T REALLY FEEL THE MYSTICISM?
I loved the concept, and the book had me believing it too, but for some reason, the mysticism like I felt with
The Raven Boys
or even
Spellbook Of The Lost And Found
just didn't hit me and I SO WISH IT HAD.
2.
THE ENDING:
I honestly believe that endings should be the best part of a book. Even though my heart breaks, cliff-hanger endings are GOOD endings to books. Closed endings are the good but the ones with a little grief and a lot of happiness are the BEST. I feel like after doing everything so BRILLIANTLY the ending to
Gray Wolf Island
was very rushed, and I didn't like it. The big reveal in the end wasn't properly explained and I WISH IT WAS. Maybe even a few more pages and I could have gotten that ending I so desperately need.
At the end of the day, if you're a fan of magical realism, treasure hunting and BRILLIANT sassy, know it all characters with gorgeous backstories, Gray Wolf Island should be on your TBR piles!
Title:
Gray Wolf Island
Author:
Tracey Neithercott
Publication Date:
October 10th 2017
Publisher:
Knopf Books For Young Readers
Part of a Series?:
No, A Standalone
I Got A Copy Through:
eARC via NetGalley for the SST Tour
Buy Links: Amazon US || Barnes and Noble || The Book Depository || Wordery || Kobo || Books A Million || Chapters Indigo || Google Books
Blurb Description:

Right before Sadie died, she begged her sister, Ruby, to do the one thing she could never do herself: Find the treasure on Gray Wolf Island.




With just a mysterious treasure map as a guide, Ruby reluctantly allows some friends to join her on the hunt, each of whom is touched by magic: a boy allegedly born to a virgin, a girl who never sleeps, a boy who can foresee his own death, and a boy with deep ties to the island. Each of them is also keeping a secret—something they'll have to reveal in order to reach the treasure.




As the secrets come to light, Ruby will have to decide: Can she make peace with her friends' troubled pasts and continue to trust them? Can she forgive herself for doing the unspeakable? Deep in the wilderness of Gray Wolf Island, Ruby's choices will determine if they make it out with the treasure—or merely with their lives.




From debut author Tracey Neithercott comes a darkly compelling tale of profound friendship, adventure, and finding the strength to tell the truth.
Tracey Neithercott's first book was written by hand and illustrated with some really fancy colored
pencils. It was highly acclaimed by her mother. Now, she writes YA stories of friendship, love, murder, and magic. (None of which she illustrates—you're welcome.) She lives in Massachusetts with her husband, who suggests improving her novels by adding Star Wars characters.
a Rafflecopter giveaway