Hi Everyone,
Welcome to the last day of Meet The Authors October. Finals start on Monday for me which means I'll mostly be exiting the blogging cave for at least the next week (unless I'm feeling brave and think I can do both studying and blogging) and entering the studying cave of last minute prep, anxiety and trying to remember whatever I can.
Which is not the point of today's Meet The Authors post at all. I have with me today the AMAZING Tracey Neithercott, debut author of
Gray Wolf Island
who has done on of the
MOST FUN CHARACTER INTERVIEWS I've done in a while! (Or Ever?)
Now, there's two Tracey Neithercott giveaways going on on my blog - one is INTL and the other is US, just to include everyone.
Click here to enter the INTL Gray Wolf Island Giveaway.
Scroll down to enter the US one!
*After some awkward fumbles and no doubt slightly embarrassing moments, clears throat to begin interview*
Aditi: I like your tattoos. I've always wanted one (or many) but I've never been able to decide what to permanently etch onto my body. Which was your first tattoo and what does it mean to you?
Elliot: Did you talk to Ruby about this? Because if she told you my tattoos are nostalgic, you should know she doesn't even understand the correct definition of the word.
Ruby: It's the sentiment, Elliot.
Elliot: Nostalgia is wistful longing for the past. I've been longing for Gray Wolf Island my whole life, but it's only ever been my present and future. No, my first tattoo—a wolf for Gray Wolf Island, on the right side of my torso—is badass. I wasn't even 18 and legal to get a tattoo at the time, but I found a guy who knew a guy. You know what that makes me?
Elliot: A rebel.
Ruby: He's really, really not.
Elliot: Get out of my interview, Ruby.
Aditi: My sources tell me that you're a great fan of linguistics. What's your favourite part about it and could you give us the origin and meaning of one of your favourite words - in any language?
Elliot: I started studying the treasure before I could even point to Gray Wolf Island on map. Mostly because Thornes are destined to discover it one day.
Gabe: Says nobody but Elliot Thorne.
Elliot: I know I'm destined to find it the way I know the treasure exists. And part of my studies were with my mom, who was called in by Wildewell's most famous treasure hunter, Bishop Rollins, to translate the markings on one of the Star Stones. Everyone thought they were runes, but everyone is obviously an idiot. They're nothing like the runic alphabet.
Ruby: You're such a badass, Elliot.
Elliot: Anyway, I'm not really into that whole thing anymore. Language and words and all of that. But if I had to choose—like if someone forces me in an interview—I'd say it's the Welsh word hiraeth. I read an article about it a few years back, how it's a word with a definition that doesn't really exist in English. Closest we can come is a deep longing for a place you've never been. A place that may never have existed.
Ruby: You feel it, don't you? About the island.
Aditi: If you had to eat three of Gabe's dishes for the rest of your life, what would they be?
Elliot: Well, he makes really great pancakes.
Gabe: Of all the stuff I've cooked for you guys…
Elliot: I like pancakes. I'd also eat his chef salad for the rest of my life—one of the three meals should be slightly healthy so I don't die when I'm 20. I'd also eat his mac 'n' cheese forever. He puts crispy bits of bacon in it.
Gabe: First off, that's prosciutto, not bacon. Second, what about my paella? I rock that thing.
Elliot: It's good. Everything Gabe cooks is good.
Gabe: Good.
Charlie: I'd want your paella for my last meal. Not that I'd be in a position to need a last meal. I mean, everyone eventually eats a last meal. It's, like, a human thing. But I don't think I'd need to request one from a jailer or anything.
Elliot: Aditi asked me the question. And I want Gabe's pancakes, chef salad, and mac 'n' cheese.
Aditi: Let's talk about the mysterious Gray Wolf Island. When was the first time you heard about it? How long has your family been The Thornes who would find the treasure?
Elliot: I heard about it before I was born. So many stories passed down for so many years—that's the sort of thing you understand before you take your first breath. And everyone knows my family is destined to find the treasure—they found an old shoe back in 1876. If that isn't proof a Thorne will find a treasure, I don't know what is.
Ruby: An actual treasure?
Elliot: So maybe everyone doesn't believe a Thorne will find the treasure, but I do. It's a pull inside me. I can feel the treasure out there—miles off the coast of Maine and nearly in my backyard. I'll find it. I know I will.
Aditi: What would be some of the first things you buy/ do if you find treasure of Gray Wolf Island?
Elliot: Well, we wouldn't actually keep the treasure. I'm sure whatever is buried there has great historical significance and belongs in a museum.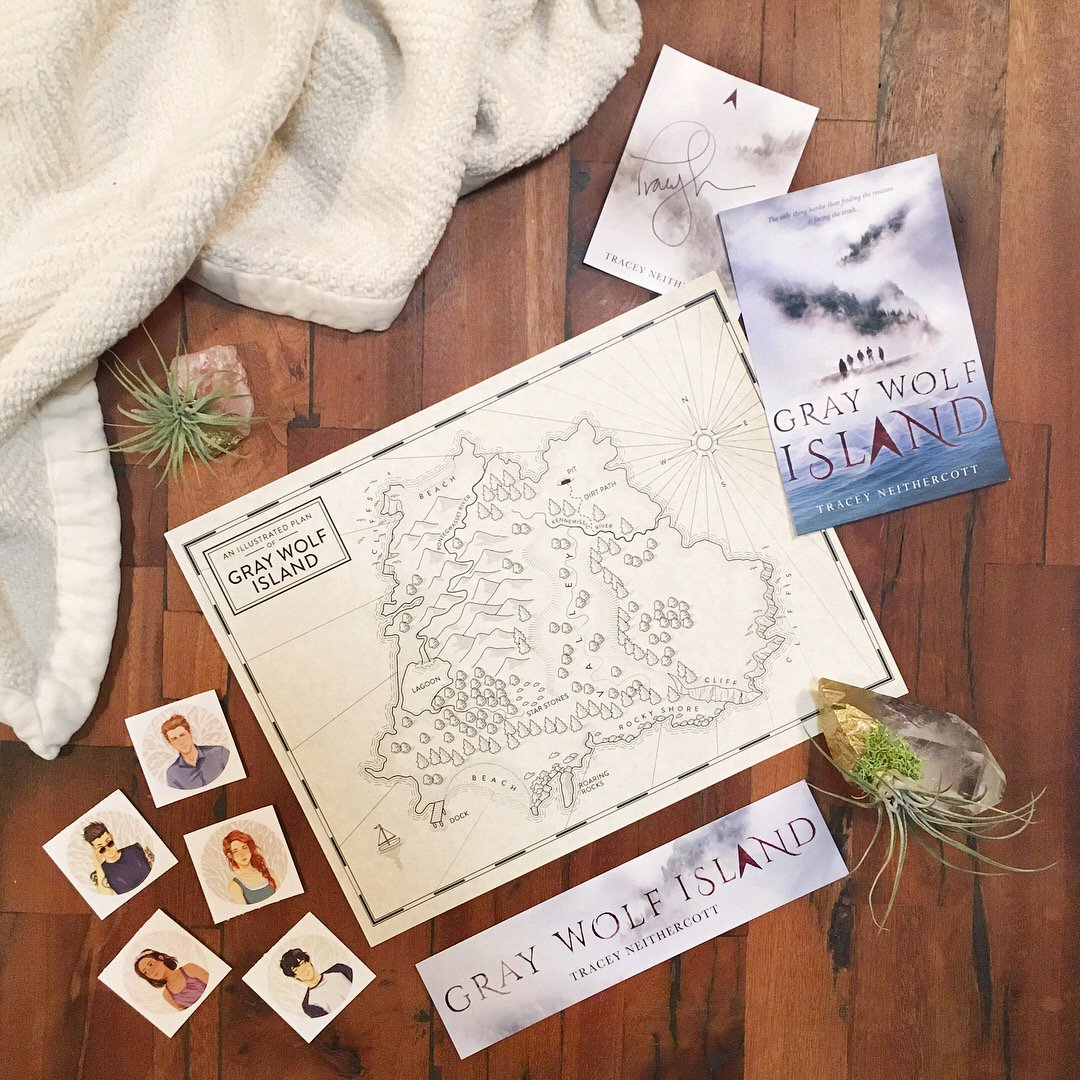 Charlie: That defeats the entire purpose of a treasure hunt.
Anne: Unless the purpose is the treasure hunt.
Elliot: You can't keep priceless artifacts. That's totally irresponsible.
Ruby: Such. A. Rebel.
Aditi: Since you're such a voracious reader, do give me a few treasure hunting TV/ Movie or Book recommendations that you think will get my in the spirit?
Elliot: Well, you could watch The Goonies, which I liked when I was a kid because of the treasure hunt (obviously) and the fact that it was a bunch of kids who found it. Even at 10 I knew age didn't make a difference in a person's ability to find a legendary treasure.
Anne: Well said! Though it does make a difference in their ability to sail a boat to the island hiding the treasure.
Elliot: There's The Curse of Oak Island on the History channel, but those guys still haven't found the treasure. I bet I could find it, if I could find a way up to Nova Scotia.
Ruby: Your confidence in your ability to do everything better than everyone else astounds me.
Charlie: I think you're really starting to win Ruby over.
Aditi: And finally, Is there a significant other (or even someone you just like for now) in your life? Would you take him or her treasure hunting with you? And what would your ideal date with this person be? (Names aren't needed)
Elliot: There might be someone…significant.

Anne: There is.
Elliot: Okay, yeah. There is. And of course I'd take her treasure hunting. I already did.
Ruby: You're such a Thorne. You took nobody treasure hunting. I took all of you.
Anne: Maybe just talk about the date part of the question?
Charlie: That's literally the last thing I want to hear Elliot talk about.
Elliot: Aditi, can you remind these interlopers that this is my interview? Because it's my interview.
Gabe: No way could you plan a better date than I can.
Elliot: I can plan a date, Gabe. It'd be summer. I'd take her to the beach at night—late, when the sky's a crisp black. I'd bring my comforter, and we'd lay down next to each other.
Gabe: I know where this is going.
Ruby: It better not be going there.
Elliot: Can you two stop talking? We'd lay down next to each other. I'd probably hold her hand because it's better that way. And we'd stare at the sky, waiting for it.
Ruby: For what?
Elliot: The Perseid meteor shower. We'd watch it side-by-side, and when it was over, I'd walk her back to her house so she wouldn't get lost.
Ruby: She might cry.
Elliot: I might hold her tight.
Ruby: Would there be kissing involved?
Elliot: Oh yeah. There'd be kissing.
Tracey Neithercott's first book was written by hand and illustrated with some really fancy
colored
pencils. It was highly acclaimed by her mother. Now, she writes YA stories of friendship, love, murder, and magic. (None of which she illustrates—you're welcome.) She lives in Massachusetts with her husband, who suggests improving her novels by adding Star Wars characters.
Title:
Gray Wolf Island
Author:
Tracey Neithercott
Publication Date:
October 10th 2017
Publisher:
Knopf Books For Young Readers
Part of a Series?:
No, A Standalone
I Got A Copy Through:
eARC via NetGalley for the SST Tour
Buy Links: Amazon US || Barnes and Noble || The Book Depository || Wordery || Kobo || Books A Million || Chapters Indigo || Google Books
Blurb Description:

Right before Sadie died, she begged her sister, Ruby, to do the one thing she could never do herself: Find the treasure on Gray Wolf Island.




With just a mysterious treasure map as a guide, Ruby reluctantly allows some friends to join her on the hunt, each of whom is touched by magic: a boy allegedly born to a virgin, a girl who never sleeps, a boy who can foresee his own death, and a boy with deep ties to the island. Each of them is also keeping a secret—something they'll have to reveal in order to reach the treasure.




As the secrets come to light, Ruby will have to decide: Can she make peace with her friends' troubled pasts and continue to trust them? Can she forgive herself for doing the unspeakable? Deep in the wilderness of Gray Wolf Island, Ruby's choices will determine if they make it out with the treasure—or merely with their lives.




From debut author Tracey Neithercott comes a darkly compelling tale of profound friendship, adventure, and finding the strength t

o tell the truth.
a Rafflecopter giveaway