Title: Daughter Of The Pirate King (Daughter Of The Pirate King #1)
Author: Tricia Levenseller
Publication Date: February 28th 2017
Publisher: Feiwel and Friends (Macmillan)
Part of a Series?: Yes, Book 1/2 of the Daughter of the Pirate King Duology
Blurb Description: There will be plenty of time for me to beat him soundly once I've gotten what I came for.


Sent on a mission to retrieve an ancient hidden map—the key to a legendary treasure trove—seventeen-year-old pirate captain Alosa deliberately allows herself to be captured by her enemies, giving her the perfect opportunity to search their ship.




More than a match for the ruthless pirate crew, Alosa has only one thing standing between her and the map: her captor, the unexpectedly clever and unfairly attractive first mate, Riden. But not to worry, for Alosa has a few tricks up her sleeve, and no lone pirate can stop the Daughter of the Pirate King.
When I first read about this on Netgalley, I remember not reading the synopsis and basing my NEED to read this book purely on the title alone.
I guess that's why it took me SO LONG to bring it to the top of my lung crushing, bookworm drowning TBR pile but now that I finished it, I AM SO SO HAPPY THAT I HAD THE OPPORTUNITY TO READ THIS BOOK BECAUSE IT IS EASILY ONE OF THE BEST I'VE READ THIS YEAR!
"I believe we create ourselves to be what we want."
Instead of describing this book, I'm going to rant about ALL THE GREAT THINGS that I LOVED TO THE BOTTOM OF MY FANGIRLING HEART (and I hope you will want to read it too!)
1.
ALL THE GIRL POWER
: What's better than a
Badass Female Main Character
who is
ALSO the captain of her own ship
? A
SUPER SASSY
Protagonist with the ability to
hold her own EASILY in a ship full of enemy male pirates, FIGHT LIKE NOBODY'S BUSINESS and also HAS A CREW FILLED WITH THE MOST AWESOME SAUCE AND LOYAL GIRLS.
(Who I am SO SO EXCITED to read more about in book two.)
2.
ALL THAT BANTER:
One of the things I loved the MOST about this book was THE EASY, sometimes sassy, sometimes flirty banter that Tricia Levenseller managed to create that made a book about pirates, mythical sea creatures, hostages and treasure SO MUCH MORE FUN. (If that is even possible) SERIOUSLY. Some AMAZING DIALOGUE.
3.
ALL THAT FLIRTING:
I LOVED LOVED Riden and Alosa together.
It was such a FUN, refreshing romance with NO PINING, all honour, attraction and flirting and I LOVED IT
. (Yes, I have used the word 'love' about 36,289 times in this review already) I loved the kissing scenes, I loved the turmoil that went through Alosa's head during those moments, and I loved them. I cannot WAIT to see what book two does with them.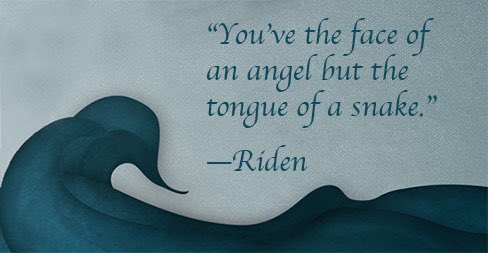 4.
ALL THOSE PLOT TWISTS:
Most days, I can predict where a fantasy will end up.
Daughter of the Pirate King,
however, had me saying 'OH HOLY WOW. I DID
NOT
SEE THAT COMING.' These are such AMAZING twists too, fitting pieces in place and WOW. LOVE. (Yes, again)
5.
ALL THAT ALOSA KALLIGAN:
Move over Celaena Sardothien, MY NEW FAVOURITE BADASS FEMALE CHARACTER IS HERE.
This girl takes NO NONSENSE, has ALL THE SASS AND THE BRAINS AND THE FIGHTING SKILLS
and well, I LOVED LIVING IN HER HEAD FOR A FEW DAYS.
There was NOTHING AT ALL WRONG WITH THIS BOOK. In fact, IT WAS SO PERFECT I COULD CRY.
A fast paced, swashbuckling tale with an amazing cast and ALL THE GIRL POWER. I'm so in love, all I want to do it read it again. 5 stars.
Tricia Levenseller writes historical fantasies for young adult readers. Her debut, DAUGHTER OF
THE PIRATE KING, is set to release Feb. 2017 from Feiwel and Friends, an imprint of Macmillan Publishers.
Initially from a small town in Oregon, Tricia now lives next to the Rocky Mountains with her bossy dog, Rosy. She received her degree in English Language and editing and is thrilled that she never has to read a textbook again. When she's not writing or reading, Tricia enjoys putting together jigsaw puzzles, playing volleyball, and watching shows while eating extra-buttered popcorn.
What is you FAVOURITE Pirate Book/ Movie?
Who is your favourite badass female character?
Have you heard of/ read Daughter of the Pirate King? Is it on your TBR?
I can't wait to chat with all you lovelies!