Title:
The Dazzling Heights
Author:
Katharine McGee
Publication Date:
September 1st 2017
Publisher:
Harper Collins
Part of a Series?:
Yes, Book 2 on 3 of The Thousandth Floor Trilogy
I Got A Copy Through:
Harper Collins India (THANK YOU!)
Buy Links: Amazon IN || Amazon US || Amazon UK || Barnes and Noble || The Book Depository || Wordery || Flipkart || Snapdeal || Foyles || Waterstones || WHSmith || Kobo || Books A Million || Chapters Indigo || Google Books
Blurb Description: New York City, 2118. A glittering vision of the future, where anything is possible – if you want it enough.


Manhattan is home to a thousand-story supertower, a beacon of futuristic glamour and high-tech luxury… and to millions of people living scandalous, secretive lives.




Leda is haunted by nightmares of what happened on the worst night of her life. She's afraid the truth will get out – which is why she hires Watt, her very own hacker, to keep an eye on all of the witnesses for her. But what happens when their business relationship turns personal?




When Rylin receives a scholarship to an elite upper-floor school, her life transforms overnight. But being here also means seeing the boy she loves: the one whose heart she broke, and who broke hers in return.




Avery is grappling with the reality of her forbidden romance – is there anywhere in the world that's safe for them to be together?




And then there's Calliope, the mysterious, bohemian beauty who's arrived in New York with a devious goal in mind – and too many secrets to count.




Here in the Tower, no one is safe – because someone is watching their every move, someone with revenge in mind. After all, in a world of such dazzling heights, you're always only one step away from a devastating fall….
In Short: This book was ADDICTIVE, filled with drama and twists at every turn, set in a futuristic New York that will blow your mind and even after you've read all four hundred pages of this book, you will be desperate for more.
When I went into The Dazzling Heights, I was under the impression that this book was the second part of a duology, but as I got closer and closer to the ending of this book, I knew that there was no way all the storylines would be tied up by the end of it and so I was SO HAPPY to see that there would be another book, effectively making this a trilogy. I honestly cannot WAIT for 2018 where I get to meet all these characters again.
Despite the fact that I LOVED book one, The Thousandth Floor, one of my biggest troubles while I read the book was getting to know and then remembering the varying storylines for each character.
When I opened The Dazzling Heights, I did not face that problem. Katharine McGee's writing managed to pull me from India 2017 to New York 2118, with her cast of characters so seamlessly, I was a little astounded. Where I craved more drama in book one, book two did not STOP with the drama and the twists and character growth AND the vibrant futuristic technology.
In short, this book was a truly brilliant masterpiece.
THOUGHTS:
1.
The Thousandth Floor series has all the right elements – New York City in the FUTURE, a huge thousand floor tower that will make your imagination soar, characters that will remind you of the days you were a Gossip Girl junkie and twists and technology that is unparalleled.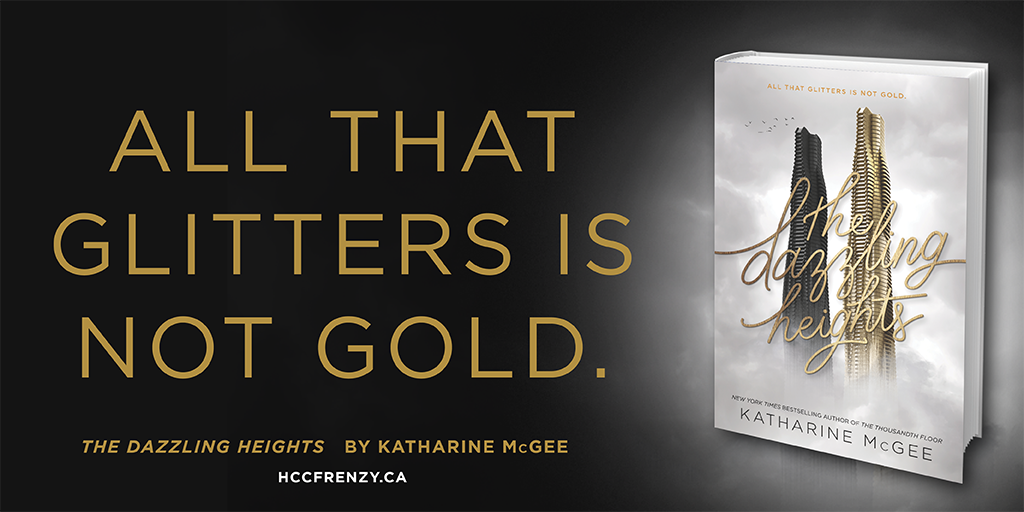 2.
I struggled to find a favourite character in this book because they ALL grew on me so much. I loved that we saw a more human side to Avery, both a compassionate and ruthless side to Leda, and the fact that Watt, Rylin, Cord and Nadia grew as characters in general.
3.
I LOVED meeting all of the characters again and reading about them and their lives. They seem like such real people, and yet live a century in the future – THAT'S how good this book is.
4.
The only thing about this book that I didn't like was Avery and Atlas' relationship. I just didn't feel anything about it. I didn't feel the chemistry, I didn't even think they were a good fit for each other, with the exception of the Forbidden Love thing.
5.
When we were first introduced to Calliope – the one main new character in this book, I thought I wouldn't like her because of the undoubted havoc she was going to cause in the lives of my favourite characters. And yet, I was so glad that she too told a major part of the story through her view points, because by the end of the book, I genuinely respected this girl too.
6.
I also wish that there had been more about Eris herself. I feel like she was mostly glossed over and hardly emotionally dealt with by all the characters in this book and I wish it had been done better.
Despite the fact that I have minor problems with this book, I LOVED IT SO MUCH THAT I READ IT IN JUST. ONE. DAY. (all while my final exams were going on)
Katharine McGee's BRILLIANT world had me spellbound and addicted with its perfect characters, technology and the twists that just keep coming. A series TRULY worth reading.
Katharine McGee is originally from Houston, Texas. She studied English and
French literature at Princeton University and has an MBA from Stanford. It was during her years in New York, working as an editor by day and writing by night, that she began a manuscript about life in a futuristic skyscraper.
The Thousandth Floor
is her first novel.
Have you had the chance to dive into The Thousandth Floor series yet? What do you think of it?
If there was a Tower with a Thousand Floors, would you choose to live in it?
What's your dream city to live in?
What are some of your favourite futuristic books? I can't wait to hear from you!