Title:
Are We All Lemmings and Snowflakes?
Author:
Holly Bourne
Publication Date:
August 9th 2018
Publisher:
Usborne Publishing Ltd
Part of a Series?:
No, A Standalone
I Got A Copy Through:
Usborne (THANK YOU!)
Buy Links: Amazon || Wordery || Foyles || Waterstones || WHSmith || Google Books
Blurb Description:

Welcome to Camp Reset, a summer camp with a difference. A place offering a shot at "normality" for Olive, a girl on the edge, and for the new friends she never expected to make – who each have their own reasons for being there. Luckily Olive has a plan to solve all their problems. But how do you fix the world when you can't fix yourself?




A raw and compelling exploration of mental health, friendship and the power of compassion from the acclaimed Holly Bourne.
"In order to think you're crazy, I'd have to understand what sanity actually meant."
Holly Bourne's books are these brilliant, feel good books, that manage to make a point and drive it home, all while being accepting and understanding. It finds the fine line between entertainment and real; it really explains and breaks barriers when it comes to mental health, and even though I'm currently at the end of my teens, her books are one I'll probably reading for years to come.
I didn't know what to expect, going into Are We All Lemmings and Snowflakes. I loved her previous YA book that dealt with mental health, Am I Normal Yet? And I HOPED that this one would be as good with all my heart.
MY THOUGHTS ABOUT ARE WE ALL LEMMINGS AND SNOWFLAKES?:
1.
I REALLY LOVED THE ACCEPTANCE AND THE INCLUSION THAT THIS BOOK MADE ABUNDANTLY CLEAR. I love that everybody with different mental health illnesses accepted each other, and were all working towards getting better. I loved Camp Reset and the fact that there were alpacas present. I also loved that Holly Bourne put to like different kinds of mental health illnesses that people have, and showed us that each individual person learns to accept it and get better differently.
IT'S HONESTLY SO HARD TO DESCRIBE, BUT IT WAS ALL VERY WELL DONE.
2.
Holly Bourne's writing was stunning, and easy to read. She is telling a story but makes it, and her characters, feel so lifelike. I was so invested in the story that I found it very hard to put the book down and read the 400+ page monster in two days.
3.
Lewis, another Camp Reset resident, was AN ABSOLUTE SNOWFLAKE (All reference to the title intended) and I fell in love with him. I loved his enthusiasm, naivety, genuineness, but most of all, his adorable belief that Math could save the world.
I was obsessed a few years ago with a show called
Numbers
that used algorithms and other complicated math to solve crimes and I LOVED THIS SO MUCH.
4.
If I had to pick my favourite thing about the book, it's would be how the story led up to the #KindnessIsContagious revelation and ALSO, the implication and implementation of it all. I think it's SO IMPORTANT to be kind, and it's very easy to just skip past that in the hectic nature of our everyday lives.
This book made me want to challenge myself to do at least one kind act a day and well, it honestly became a must-read for me.
5.
I don't know how I feel about Olive, till date. I liked her and I also didn't like her. She was the one confusing part of this book, but I suppose she was meant to be. I did like that she didn't let labels define her at all, but other than that, she's very confusing to me.
WOULD I RECOMMEND THIS BOOK? Definitely. Are We All Lemmings and Snowflakes? is a BRILLIANT READ, that makes you sit down and think about WHAT WE CAN DO to help people in general and it was such a satisfying book to read. 4 stars.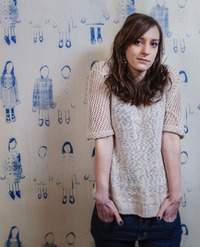 Holly started her writing career as a news journalist, where she was nominated for Best Print
Journalist of the Year. She then spent six years working as an editor, a relationship advisor, and general 'agony aunt' for a youth charity – helping young people with their relationships and mental health.
Inspired by what she saw, she started writing teen fiction, including the best-selling, award-winning 'Spinster Club' series which helps educate teenagers about feminism. When she turned thirty, Holly wrote her first adult novel, 'How Do You Like Me Now?', examining the intensified pressures on women once they hit that landmark.
Alongside her writing, Holly has a keen interest in women's rights and is an advocate for reducing the stigma of mental health problems. She's helped create online apps that teach young people about sexual consent, works with Women's Aid to spread awareness of abusive relationships, and runs Rethink's mental health book club.
What are some of your favourite books that deal with mental health?
Have you read any Holly Bourne books? What do you think of them?
I'd love to hear from you!