Title:
How Do You Like Me Now?
Author:
Holy Bourne
Publication Date:
14th June 2018
Publisher:
Hodder and Stroughton
Part of a Series?:
No, A Standalone
I Got A Copy Through:
Hachette India (THANK YOU!)
Buy Links: Amazon IN || Wordery || Foyles || Waterstones || WHSmith || Chapters Indigo || Google Books
Blurb Description: 'Turning thirty is like playing musical chairs. The music stops, and everyone just marries whoever they happen to be sitting on.'


Who the f*ck is Tori Bailey?




There's no doubt that Tori is winning the game of life. A straight-talking, bestselling author, she's inspired millions of women around the world with her self-help memoir. And she has the perfect relationship to boot.




But Tori Bailey has been living a lie.




Her long-term boyfriend won't even talk about marriage, but everyone around her is getting engaged and having babies. And when her best friend Dee - her plus one, the only person who understands the madness - falls in love, suddenly Tori's in terrifying danger of being left behind.




When the world tells you to be one thing and turning thirty brings with it a loud ticking clock, it takes courage to walk your own path.




It's time for Tori to practice what she's preached, but the question is: is she brave enough?




The debut adult novel by bestselling author Holly Bourne is a blisteringly funny, honest and moving exploration of love, friendship and navigating the emotional rollercoaster of your thirties.
Two points before I begin my review-rant:
a)
Holly Bourne is one of my ABSOLUTE favourite YA authors, especially after her book
What's A Girl Gotta Do?
And when I heard she was releasing a "Must-Read" and "Hilarious" adult debut, it became a MUST read.
b)
I adore romantic comedy novels with a message, and this sounded like a GREAT ONE, regardless of age. Comparing yourself to others, society's expectations and social media? HOW ABSOLUTELY RELEVANT TO EVERYTHING WE GO THROUGH ON A DAILY BASIS.
And while there were a lot of lovely, on-point messages in this book, a lot of scenes that made me laugh, the main thing that stayed with me about this book, days after I put it down is HOW MUCH THE MAIN CHARACTER WHINED AND COMPLAINED AND BITCHED AND HAD UGLY THOUGHTS and I get it, because we do all of the above on a daily basis, but Tori Bailey, the protagonist was just such a NEGATIVE person about everything and stuck in a relationship that she knew was going nowhere and I honestly didn't know how to deal.
I guess, even though we shouldn't compare books, I hoped that How Do You Like Me Now?, just like all of Holly's other books would be uplifting or have some sort of positive message, and while it got to it in the end, there were still 300+ pages of all the negativity that ended up being a little more than I could handle.
Also, more than anything else, Tori couldn't find it in herself to be supportive of her BEST FRIEND when she found someone and got pregnant and that really annoyed me because WHAT EVEN?
I guess I just wish that this book was more.
There were still a lot of things I REALLY liked about this book, including:
1)
Tori Bailey's stark honesty:
Even though she was a negative and unsupportive person in general, I did love how absolutely unfiltered and unflinching her thoughts and opinions were.
2)
THE RELEVANCE:
How many of us DON'T scroll down social media and then feel bad or that we're not doing things 'right' when we look at other's accomplishments? I loved that the book dealt with the SHEER PRESSURE these online platforms and the 'life achievements' of people you follow there exert on you because IT IS REAL.
3)
YES FOR THE ENDING:
Like I mentioned before, the ending of this book was more the Holly Bourne books WITH MESSAGES that I'm used to. I loved how supportive Tori's parents were and so proud of Tori for finally standing up for herself and doing the right thing.
I guess all in all, this was probably the most REAL adult contemporary I've EVER read, but I wish there was more positivity or support from the main character towards anything at all. 3 stars.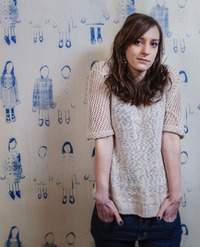 Journalist of the Year. She then spent six years working as an editor, a relationship advisor, and general 'agony aunt' for a youth charity – helping young people with their relationships and mental health.

Inspired by what she saw, she started writing teen fiction, including the best-selling, award-winning 'Spinster Club' series which helps educate teenagers about feminism. When she turned thirty, Holly wrote her first adult novel, 'How Do You Like Me Now?', examining the intensified pressures on women once they hit that landmark.

Alongside her writing, Holly has a keen interest in women's rights and is an advocate for reducing the stigma of mental health problems. She's helped create online apps that teach young people about sexual consent, works with Women's Aid to spread awareness of abusive relationships, and runs Rethink's mental health book club.
What are some of your favourite adult contemporaries?
Have you read any of Holly Bourne's books? What do you think of them?
If you have any interesting adult contemporary recommendations, I would LOVE to hear them!